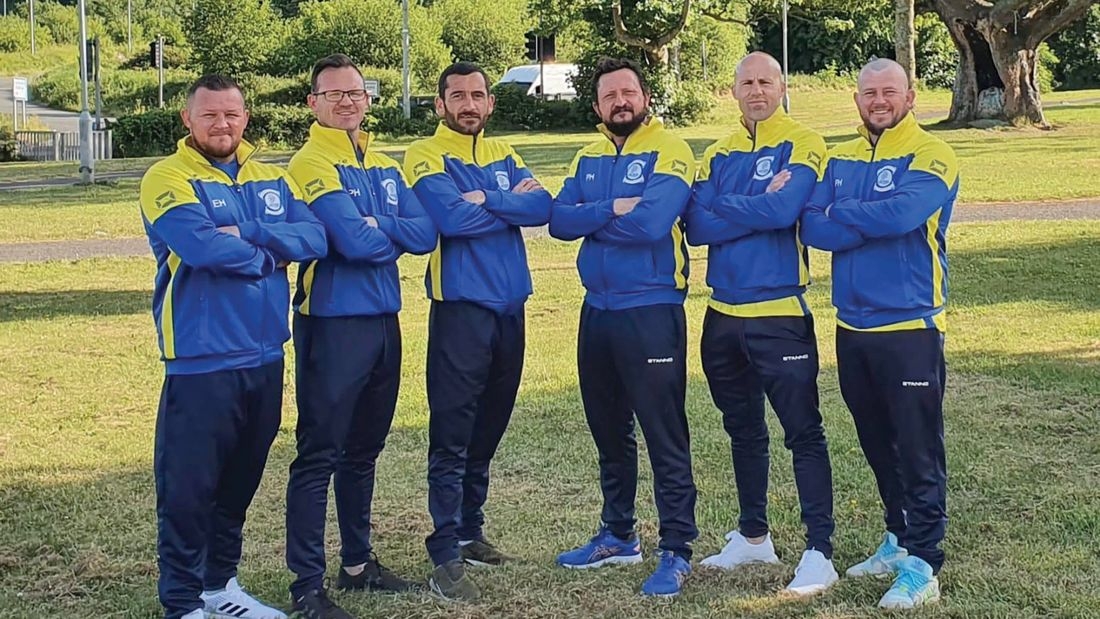 Golden Cobra is back
By Stephen Leonard
GOLDEN Cobra is well and truly back in Irish boxing following the official renaming of Hyland Boxing Academy on Wednesday.
Coinciding with the 30-year anniversary of the founding of Golden Cobra BC by the late Paddy Hyland snr, John Farrell and Marie Hyland back in 1990, the re-established club, based in SBG Tallaght, is ready to hit the ground running whenever government restrictions are lifted.
Eddie, Patrick, Daniel and Paul Hyland together with Aodh Caryle and Paul Hyland all geared up and ready for the return of Golden Cobra BC
Spearheading the new Golden Cobra are the three Hyland brothers, Eddie, Patrick and Paul along with their cousin Daniel Hyland, uncle Paul Hyland, Aodh Carlyle and Tommy McCormack.
Paul Hyland, who set up Hyland Boxing Academy back in 2017, is excited about the Golden Cobra brand returning, but insists it was not a step that was taken lightly.
"I was never going to take the responsibility of the Golden Cobra name on my own, but now that us three brothers are back together, the time is right" he told The Echo.
"It's the 30-year anniversary so let's go back. It's just very exciting" he said.
Certainly the three Hyland brothers boast no shortage of experience in both the amateur and professional boxing fields, with all three having captured Irish professional titles at the very same time.
Indeed Eddie held the Super Featherweight strap while Patrick was the Number One featherweight in the country and Paul, likewise at Super Bantamweight.
Paul, who was joined at HBA by his brother Patrick and later Eddie, has seen their club enjoy no shortage of success with a National title winner crowned every year since its formation.
It is a feat that his late father Paddy boasted in his 25 years with the original Golden Cobra before his tragic passing in 2015.
Indeed, by the time Cobra was due to celebrate its 25th anniversary, the club had chalked up a stunning 52 national title winners, Brian Lynch being the very first of them.
It was 30 years ago that the late Paddy Hyland founded the club Golden Cobra
'The Fab Four' of Darren Hyland, David Sweetman, Thomas O'Shaughnessy and Michael Dillon, all secured national honours under the tutelage of Paddy, not to mention his sons who hauled in a huge number of titles, Paul, himself, carding no less than ten.
Looking back on the early days of Cobra, Eddie Hyland recalled "The first year my dad set up the club, it was based in Brookfield and he then had to move it to the shed out our back garden in Cloonmore.
"He got the use of the PE Hall in St Thomas' and the school later gave us two pre-fabs. We were in there all the time.
"A lot of Irish champions emerged from those pre-fabs" he said.
Eddie has been delighted with the overwhelmingly positive response to the decision to revive Golden Cobra, saying "When I put the statement out, the amount of people who were happy to see Golden Cobra back in boxing was just unreal.
"We're all very excited about it. It's a big deal and it's a big weight on our shoulders, but as someone said to me, with the three Hyland brothers back together again and with the boxing knowledge we all have, we'll soon be producing more champions."
By subscribing to The Echo you are supporting your local newspaper Click Here: Echo Online.