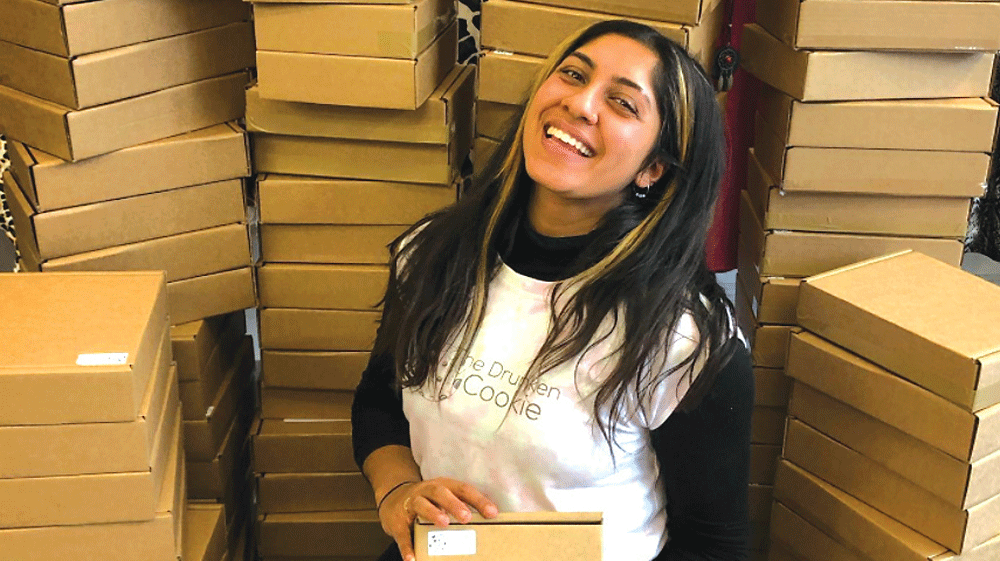 Growing Cookie business gives Saifa 'something to work for'
A WOMAN who began baking whilst struggling with her mental health during the pandemic has gone on to form a successful business selling 'not your average cookie'.
Saifa Kajani found herself in a "dark place" in May 2021 on the back off a breakup, losing her job and battling with alcohol addiction and borderline personality disorder.
"I have always had issues with my mental health, but this is somewhere where I have never been before", Saifa tells The Echo.
"I was on the phone to my brother one day and he said that I need something to live for, something that would give me purpose. I had studied culinary entrepreneurship in college, and I always wanted to open a café, even back when I was in school.
"I had nothing to lose, and I had about three grand in my account, so I said let's invest it into a new business venture."
Playing around with different recipes and ideas, Saifa found a winner and invited her friends over for "bottomless milk and cookies' to try them out.
"I remember on the day I invited about 12 people over and loads of them bailed and I was left with a load of cookies, and I said to myself – what am I doing," said Saifa. "I then realised that this wasn't going to happen overnight."
Saifa went on to begin selling the cookies, which are bought as a monthly subscription box, on Instagram and gaining popularity for their unconventional names and flavours.
With the business gaining traction online, Saifa turned to the Local Enterprise Office in South Dublin for guidance on how to expand her company and put her in the right direction.
"I reached out to LEO and had an introduction and they told me what route I should be taking and what grants were available for me," Saifa explains. "They were very very helpful – I am in the process of applying for a grant through LEO at the moment."
With sales taking off and out growing her kitchen at home, Saifa has just secured a production kitchen in Fashion City in Ballymount and has plans to hire staff.
The cookies can be ordered as a box of six for €22.50, with the variety changing on a monthly basis. Some of the indulgent flavours include Biscoff, Kinder Bueno and white chocolate with rainbow sprinkles.
"It has given me something to work for and it has given me a bit of purpose," Saifa explains.
"They are not your average cookie. They are like me – irreverent, out there and not basic."
You can check out The Drunken Cookie  or on Instagram.