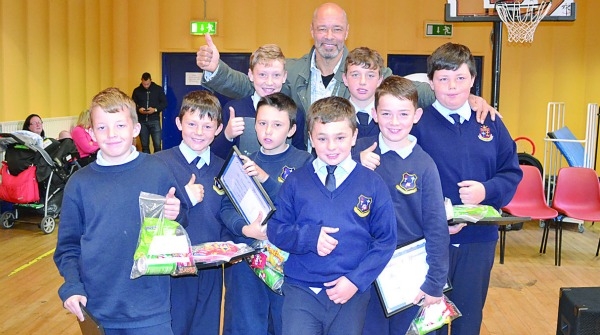 Hail to the heroes! Former Irish soccer international, Paul McGrath, shows his appreciation for heroic youngsters
By Maurice Garvey
QUICK thinking action by a group of young boys helped save the life of a youngster involved in a horrific fall.
Cain McKenna (10), from Drimnagh, slipped and fell of a shed roof in Brickfield Park last June – suffering a severe fracture to the back of the skull.
Despite the seriousness of the accident, seven local boys aged 10-12 moved into action immediately – performing CPR on Cain and contacting emergency services and the boy's family on Mourne Road.
Their actions were instrumental in saving his life, and after spending two months in Temple Street Hospital, Cain is slowly recovering.
He is back attending class on a phased basis at his school in Our Lady of Good Counsel BNS – who commemorated him and the group during a special presentation on Wednesday morning.
The occasion received a massive lift with former Republic of Ireland footballer Paul McGrath presenting certificates to the group.
Good Counsel BNS Principal Aidan Knight said: "Cain fell on the back of his head, but the boys really held it together. Some of them graduated to the primary school last year but we invited them back, along with parents to celebrate the boys.
"He had major surgery and has made an amazing recovery, but it's a long road. He has to be held back from the playground at the moment."
Students serenaded the former Manchester Utd and Aston Villa great with chants of 'Ooh Ah Paul McGrath' as he entered the school hall.
Former Drimnagh Castle pupil McGrath, was "shocked" when he heard what happened, and called the boys' actions "remarkable."
McGrath was selected on the World Cup team of the tournament (Italia 1990) and was happy to pose for pictures and autographs with staff and parents after the event.
Cain's proud parents Pamela and Patchell told The Echo they were "delighted" with the actions of the boys.
Pamela said: "If the boys hadn't done that, where would he be now. I'm proud they looked after him. At one stage, doctors told us he mightn't make it. He is doing rehab every day in Dún Laoghaire Hospital and should be fully recovered in a year or two.
"He struggles with emotions and short-term memory, and we have to keep him back from sports, even though he is sports mad, but he is going well."
Alexis Debotte, a member of the Order of Malta, and parent of a child in Good Counsel, delivered certificates to classes for their training in CPR awareness week.
Alexis said: "The boys made a major impact, they're literally heroes. Students took part in CPR training on Monday and were outstanding. We might have some potential members for the Order in the making."
READ MORE: Local man spent 14 YEARS without
electricity in home – Click
HERE
READ MORE
:Father caught with

€

1 million of drugs
in garden shed – Click
HERE
READ MORE:
After 30 years Lucan residents see a pool
on the horizon as new funds of €400,000 are
allocated for plans
–
Click HERE

READ MORE:
Five charged with having
sex with a girl
under 17 – Click HERE