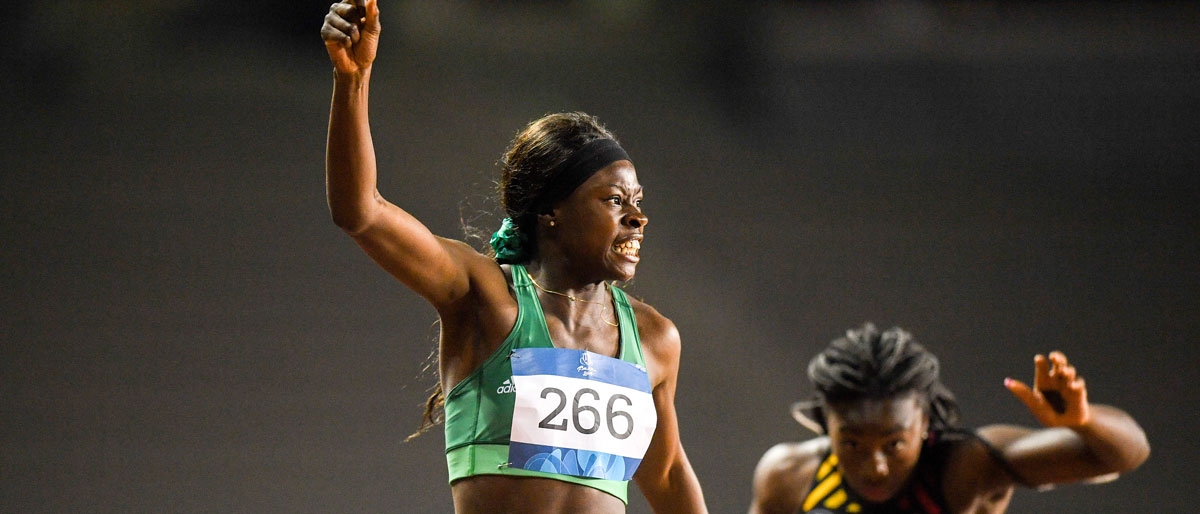 Adeleke breaks Irish 200 metre record in the Big Apple
By Daire Walsh
Tallaght native Rhasidat Adeleke set another landmark in her young career by breaking the Irish 200 metre record at the Big 12 Championships in Manhattan on Saturday evening.
Clocking in at 22.96, Adeleke usurped the previous record that was held by Phil Healy. The former Presentation Community College, Terenure student also ran the 100 metres in a time of 11.31 to break the Irish U20 and U23 record in that particular division.
Rhasidat Adeleke broke the Irish 200 meter record in New York on Saturday
This puts her just behind Healy in the all-time 100 metre national ranks - the Cork athlete is just out in front at 11.28. These results continue a remarkable trend in 2021 for the Tallaght AC star.
Last month, the 18-year-old replaced Emily Maher as the Irish 200 metres junior record holder by registering a time of 23.27 - before going one better just a week later with a new record of 23.25.
At the end of February – in another Big 12 Championships event – she broke the Irish junior 400 metre indoor record in a time of 53.44.
Representing the University of Texas at the nearby Sports Performance Center, she secured a commendable sixth-place finish – just under two seconds behind the eventual winner Stacey Ann Williams (51.60).
Adeleke is currently on a scholarship in the US and is beginning to build on a promising underage career that saw her shining at the World U20 Championships and the European Youth Olympics in 2018 and 2019 respectively.
Before she can look forward to upcoming events, Adeleke will hope to make a big splash on the final day of the Big 12 as she is set to compete in the finals of both the 100 metres and 200 metres later tonight.