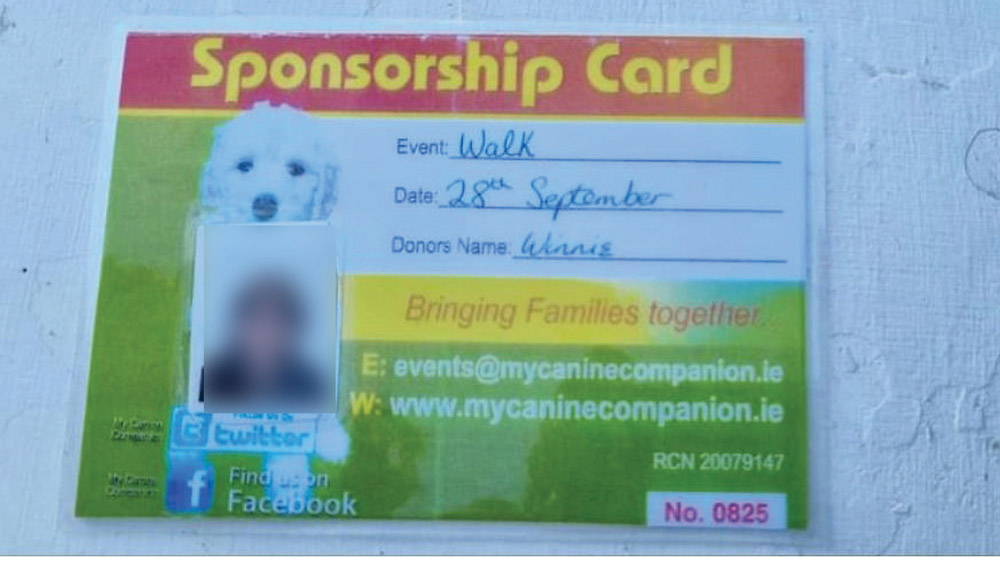 Canine charity warns about bogus collectors
A CHARITY, which specialises in training dogs for people with additional needs, has said it is "extremely concerned" after reports started swirling of bogus collectors.
My Canine Companion (MCC) is a nationally registered charity which provides accredited service dogs to people with additional needs, predominantly autism.
With this, MCC also provides a range of therapy dog services and autism awareness programmes through the provision of highly qualified service dogs.
The cost to the charity of providing a fully qualified service dog over a two-year training programme and continuing lifetime support is €10,000.
A few weeks ago, a resident's group online posted a warning to residents in Old Bawn which included a photograph of a fake My Canine Companion sponsorship card.
These bogus collectors were pretending to be fundraising for a walk on September 28, with the Cork-based charity confirming it does not have people doing door-to-door collections in Tallaght.
"Yes, indeed these are bogus collectors," a spokesperson for My Canine Companion told The Echo.
"We have received a couple of emails already from people in Tallaght reporting this.
"My Canine Companion does not have people collecting door to door in Tallaght or in any part of the country.
"We are extremely concerned that these people are using our charity to try to scam people into giving them money.
"We have reported the matter to Tallaght gardai and have forwarded them all reports that we have."
Following MCC confirming that these were bogus collectors, The Echo reached out to An Garda Síochána for a comment.
A Garda spokesperson said: "Gardai have received report in respect of such an incident and enquiries are ongoing at this time."