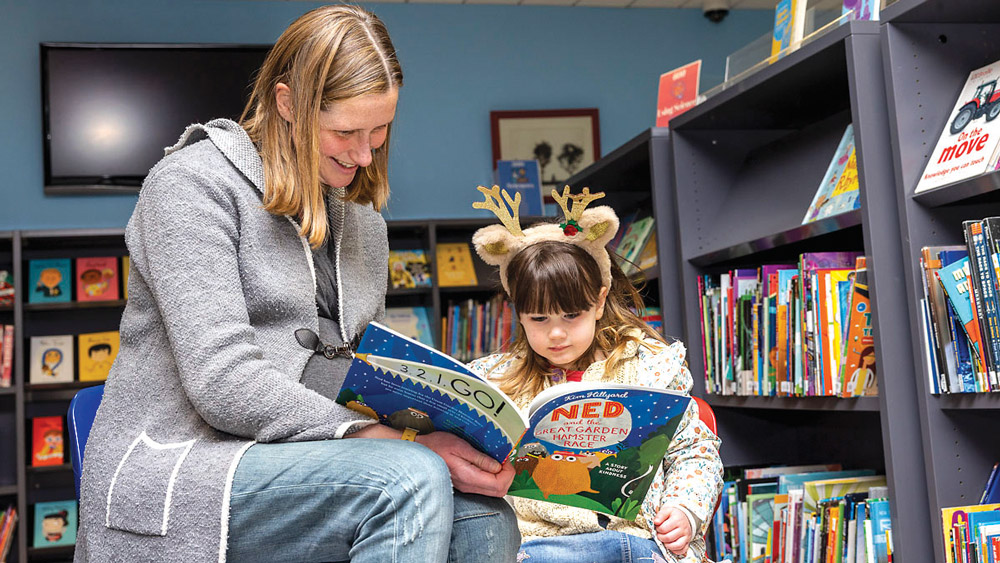 Families celebrate arrival of Dolly Parton's library books
OVER 300 families attended a family fun day in the County Library, Tallaght, on Saturday, to celebrate the delivery of 200,000 books to children in the area via Dolly Parton's Imagination Library.
The event was organised by the Childhood Development Initiative (CDI) and featured a drawing workshop by author Gerry Duffy, who taught the children how to draw puffins.
Upwards of 150 children and adults watched the Red Riding Hood Puppet Show with Moon and Sixpence Puppet Theatre, while entertainer Sarah Sparkles delighted the children with magic and songs.
Amy Ellis attended the family fun day with her two young daughters, as her four-year-old daughter Eirinn O'Connell has received books through Dolly Parton's Imagination Library.
Amy said: "Eirinn absolutely loves opening the [Dolly Parton's Imagination Library] envelope, she thinks it's great that she gets post with her name and it's specifically for her.
"She insists we read them until the next book comes. She loves the different varieties of books.
"At the moment, she is reading 'My Daddy', and is learning about different types of families and different groups.
"She's had books about counting and different vowel sounds. She absolutely adores them."
Amy said the fun day also offered an opportunity for Eirinn to get involved in a community event, particularly as Covid meant she never got to attend any early years groups.
"We came to the library today for the event," said Amy. "Eirinn loved the puppet show, she was wondering how the dolls were moving. She has never seen a live puppet show before.
"She loved the songs and the use of Irish words with Sarah Sparkles. Eirinn missed out on the various groups for early years that would have done singing, movement etc.
"Because of Covid, those groups didn't run."
Commenting on the success of the family fun day, Marian Quinn, CDO of CDI, said: "It was great to see the joy on the children's faces today.
"Families were locked up because of Covid for so long, the under-fives missed out on going to events like these where they get to sing, move and see things like puppet shows.
"All these group activities are so important for their development.
"Today we are also celebrating Dolly Parton's Imagination Library book-gifting scheme.
"We at CDI are pleased to be able to continue to support families through books — also important [in] development."
The event was run by The Childhood Development Initiative (CDI) in collaboration with South Dublin Libraries. It was funded by Amazon Web Services.