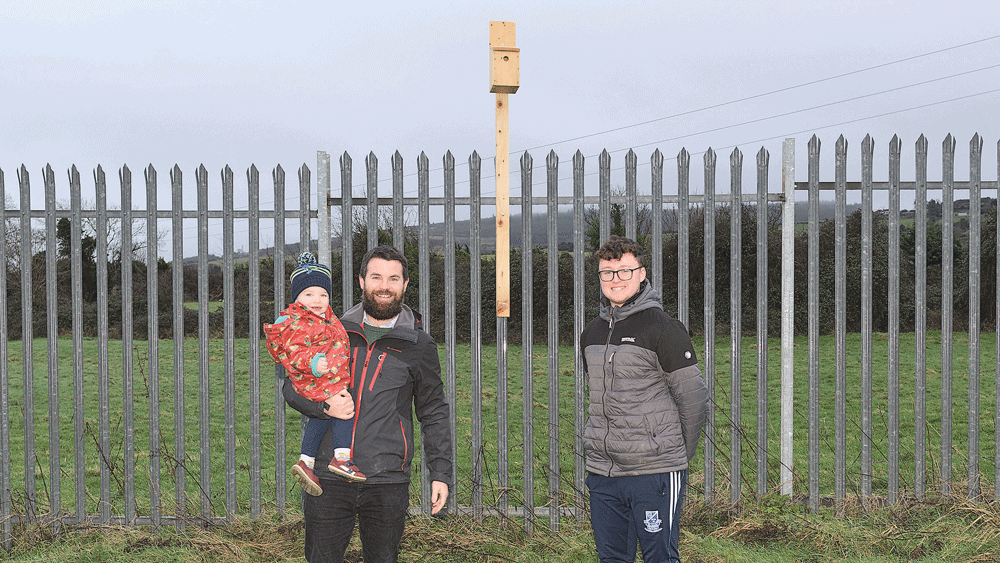 GAA Club's new bird boxes give something back to the environment
A GRANDFATHER and grandson team joined forces to make three bird boxes for St Anne's GAA Club in Bohernabreena, to complement the club's efforts to enhance biodiversity in the club grounds.
The bird boxes were made by 76-year-old carpenter Michael Murphy, from Millbrook Lawns in Tallaght and his 15-year-old grandson, Eoin Murphy, who plays for St Anne's.
Eoin, who is from Ellensborough and is a transition year student in Firhouse Community College, put up the bird boxes last Saturday morning.
Speaking to The Echo, Eoin said that he made the three bird boxes with his grandfather over the course of three hours and praised his grandfather for showing him how to make them.
Eoin's dad, Stephen Murphy, who coaches the St Anne's U15s team, said the idea for the bird boxes came about after St Anne's held online activities for members during the pandemic.
These activities included fitness classes, and also classes about nature and the outdoors – which included information from club member and environmentalist Codie Preston on how to build bird boxes.
"Codie Preston came up with the idea of the kids making bird boxes," explained Stephen. "So Eoin decided to go and make a few with his grandad.
"They've made three so far, and there's plans for bat boxes too because we've a lot of bats in the area."
The bird boxes will provide shelter for birds in the area and can also provide a safe space for nesting.
They're part of a wider biodiversity initiative in St Anne's, spearheaded by club members Codie Preston and Rachel Freeman, which kicked off with the active rewilding of the perimeter of the club's grounds over the summer.
Many pollinators, like bees, have been spotted in the rewilded site, along with the emergence of plants such as goat's beard and comfrey.
Speaking about the club's overall biodiversity efforts, St Anne's PRO Adam Doran said: "Our aim is to get whole families involved in St Anne's, but we have some kids who don't take to the sport so they can explore the rewilding so it's something for them to do, so we can be inclusive."
As for the recently placed bird boxes, Adam said they're an important resource for local wildlife and are a way in which the club can 'give back' to the environment.
"It's giving back to the local resources so there's a home for these birds," he said. "They'll be a bit of an addition to local wildlife habitats."