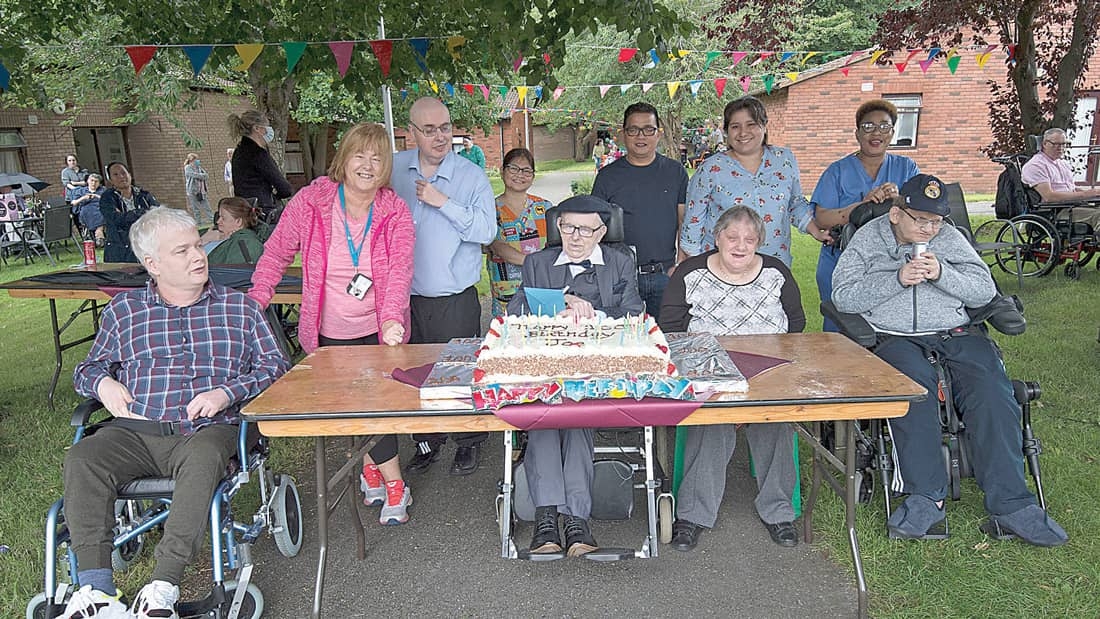 Happy 100th, Joe!
By Aideen O'Flaherty
A CHEEVERSTOWN House resident celebrated his 100th birthday last week with friends and staff, who describe him as a gentleman and consider him a part of their family.
Joe Bell, who has elected not to communicate verbally over the years, has been supported by Cheeverstown Intellectual Disability Services since 1987, and the staff there describe themselves as being Joe's family, as he has no known relatives.
Joe Bell, a long-time resident of Cheeverstown House, celebrates his recent 100th birthday at a party attended by residents, friends and staff members (Image: Dave Meehan)
His birthday celebration on Friday was attended by over 20 residents and many members of staff who've worked with Joe over the years, and they were delighted to celebrate his milestone birthday with him.
Janine Bortonel, a senior nurse in Sycamore 3 in Cheeverstown who has been Joe's key worker for 19 years, told The Echo: "The whole house celebrated outside in the grounds. The celebration was a lot of fun."
She added: "Joe's family is us, the staff, and I've been his keyworker for a long, long time. I advocate for him, in liaison with my managers and Maria Fitzpatrick, the nurse specialist."
The staff in Cheeverstown House are very fond of Joe, and after he discovered his love of painting many years ago, the staff gave him a gift of oil paints, brushes and an easel for his 70th birthday.
Joe's vibrant abstract art has gone on to be displayed in the Civic Theatre and in Cheeverstown House.
Denise Fahey, the director of operations in Cheeverstown House, said: "Joe is truly an extraordinary gentleman and an inspiration to those who meet him."
Describing what Joe is like, Ms Bortonel said: "He's a gentleman. He's very good at art and painting, and loves to have a hot whiskey every evening.
"He doesn't like it when people talk to him very loudly or are being loud – he loves it when people talk to him in a gentle way.
"He loves savoury and sweet food, and when we're on duty over the weekend and the restaurant is closed, we cook the food and it's usually traditional things from where we're from, like chow mein, and he really likes it."
Unfortunately, Joe doesn't paint as much as he used to as he now suffers from cataracts, but he instead derives great enjoyment from listening to trad music, with The Dubliners being a particular favourite, most evenings.
When asked what the key to Joe's long life might be, Ms Bortonel said she believes it's a result of the care he receives in Cheeverstown – and, of course, his nightly tipple of Irish whiskey.
By subscribing to The Echo you are supporting your local newspaper Click Here: Echo Online.