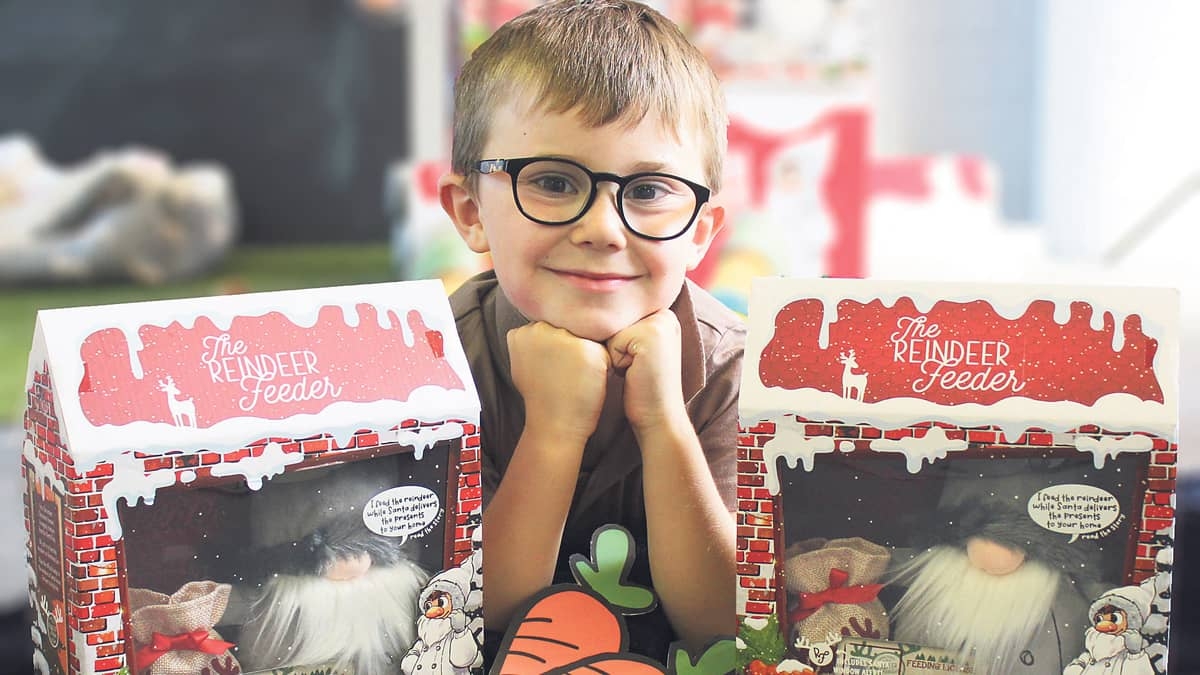 Move over Elf on the Shelf, a new Christmas tradition is coming to town!
Advertorial
The countdown is on to Christmas – the season we are all looking forward to making more magical than ever this year! With magic in mind, the Reindeer Feeder is the new venture from the imaginative co-founders of The Irish Fairy Door Company, Gavin & Aoife Lawler of Innov8 Creative Academy.
With being at home the one certainty we can expect this December, this magical little character, is set to become a must have in Irish households - this Christmas and beyond.
This new Irish festive tradition is set to literally knock the Elf on the Shelf off his perch! The Reindeer Feeder (Shrumann) is a crucial player on Christmas Eve and ensures a seamless delivery from Santa Claus and his reindeer.
Retailing at €19.99 RRP a 'Shrumann' – a shrunken human, is the only little helper needed on Irish mantlepieces this Christmas – and best of all, you won't need to move this little cutie about once he arrives in your home and makes his magical mark on the season!
Shrumanns have gone unnoticed for centuries but are now coming out of hiding to ensure Christmas 2020 goes off without a hitch for Irish kids. Shrumanns hail from the tiny village of Shrumavia in Lapland, and they are some of Santa's most important essential workers.
Tasked with feeding and caring for all the reindeer in Lapland, Santa is now dispatching Shrumanns on key missions across Ireland and the world to ensure all children have an official Reindeer Feeder in their home on Christmas Eve!
When Santa arrives it is the Reindeer Feeder who lets him know everyone is asleep and it is safe to come in before gathering up the special feeding sack for the reindeer and popping up the chimney on to the roof to feed them. Santa relies heavily on this kind of help in order to get around the world in one night!
Shrumanns appear to humans in the form of a plush cuddly toy and arrive in a festive Reindeer Feeder presentation box, perfect for every home and every kid – even the big kids, this Christmas!
Also included in the box is a feeding license, allowing owners to give their Shrumann its own name, a festive feeding sack (essential for the job) for the all-important carrots on Christmas Eve, a Reindeer Feeder storybook, allowing the reader some insight into the magical world of Shrumanns and finally a Reindeer Feeder window decal, so Santa knows if a home is ready to offer Shrumann assistance on Christmas Eve.
The Reindeer Feeder presentation box retails for €19.99 RRP and makes the perfect seasonal gift and addition to your home – a Shrumann is the missing magic needed in your home this Christmas!
Share your Shrumann in a selfie on Instagram and enjoy the magic he brings to your kids hearts as well as your homes – without having to think of a new spot to move him to during December! What more could you want from a Christmas tradition?!
Once you perch your Shrumann in his safe place in your home, there's no need to move him around the house (like some other little "helpers" we know!) in the run up to Christmas! Tradition, magic – and hassle free for parents!
Gavin Lawler, co-founder of the Reindeer Feeder, says "We're really excited to be bringing Shrumanns to the children of Ireland this Christmas, it's such a fun and novel creation that really focusses on the magic of Christmas and we're thrilled with the popularity and demand seen for the Reindeer Feeder so far.
"With the year that's in it, bringing joy to kids this Christmas will be even more important than ever and the Reindeer Feeder along with the imaginative world of Shrumanns is solely focused on bringing joy.
Santa's reindeer work so hard on Christmas Eve so it's only right that a professional Reindeer Feeder is on hand to give Santa a bit of help and keep his reindeer fuelled for a busy night of deliveries, who better than a licensed Shrumann for the job!
"The best part is the ease of working with the Shrumanns for parents, once he's perched in place, he's happy to chill out there until the big night – hassle free and no messing or moving!"
The Reindeer Feeder is available at over 400 stores across Ireland and the UK, is stocked in Harvey Norman and McCauley's pharmacies nationwide and all good garden centres.
The Reindeer Feeder can also be bought online via Amazon at www.thereindeerfeeder.com
By subscribing to The Echo you are supporting your local newspaper Click Here: Echo Online.