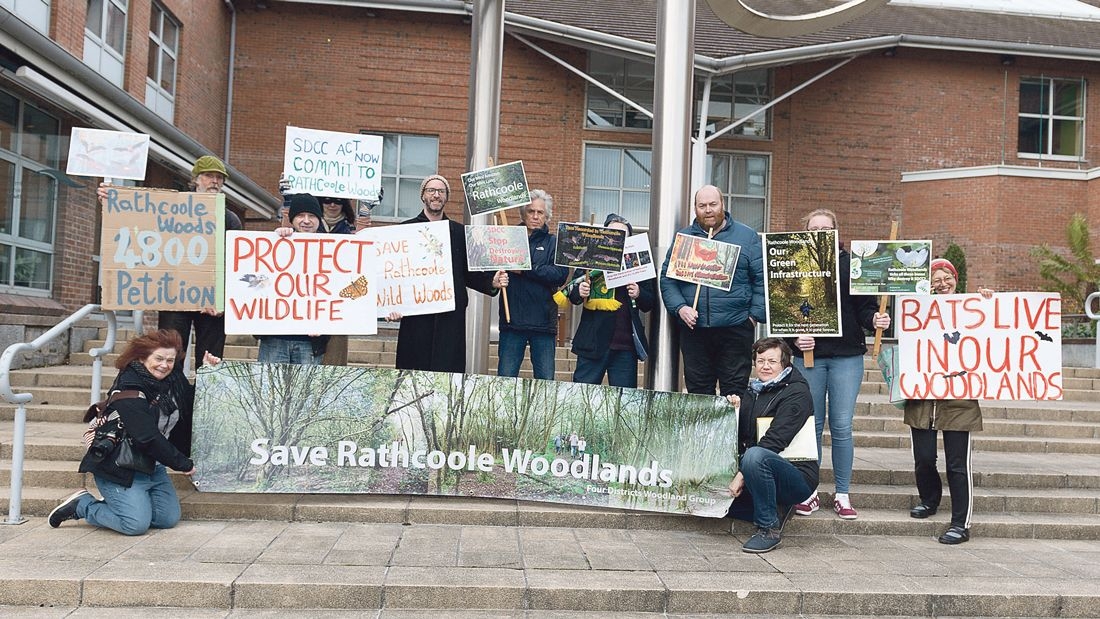 Over 650 schoolchildren petition to save Rathcoole Woodlands
By Aideen O'Flaherty
OVER 650 schoolchildren from Rathcoole have signed a petition against South Dublin County Council's plans to build a housing development on woodland in Rathcoole, as the local children are concerned about the impact this could have on a bat population that is in the woodland.
The council recently announced plans for the development of 250 houses, a number of GAA pitches, a primary school and a library at the woodland site in Rathcoole, behind Coolamber and Rathcoole Park, which has led a local group to submit petitions against the plans.
Continuing the protest after the petition was handed in
The petition, which was signed by 538 pupils from Holy Faith Community School and 119 pupils from Scoil Chrónáin, was organised by the Four Districts Woodland Group and was handed in to South Dublin County Council at County Hall, Tallaght, on Wednesday.
Alistair Mullan, from the campaign to protect the bats in the woodland, said: "The children want to keep the woodland so they can use it in the future, to relate to nature and have access to it.
"I think many children want to see wild areas being protected.
"The woodland is on the doorstep of people's houses, and it has great potential for people to access it and use it recreationally."
Mr Mullan added: "We are fortunate enough to have at least four species of bat which frequent the Rathcoole Wild Woods.
"We are confident that, with further monitoring in Spring 2020, we will find other species too."
Local resident and nature educator, Annie Flynn, said: "Isn't it great that local schools and children may have the opportunity to see for themselves where bats are hunting and flying?
"This is a real moment to recognise and value what we have right now in Rathcoole and Saggart.
"These woodlands and the varied insects and animals they house and protect are vital and dwindling.
"Let's shape a future where our children not only have homes, but have places close by to play in nature, to imagine what's wild and to be really in awe. This is worth fighting for."
This petition is the second phase of the Four District Woodland Group's collection of petitions against the plans, with the group having previously left a petition with over 1,200 signatures into County Hall last September.
Planners for the council are in the process of developing an architectural proposal for the site, before the plans are brought to the Part 8 public consultation stage and will ultimately be voted on by councillors when the public consultation period ends.
A council spokesperson said: "A preliminary layout was presented to the council in October 2019. This work has been informed by environmental and biodiversity considerations including desktop analysis and field survey work.
"This has included an initial analysis of features with the potential for use by roosting bats. This information is being used to inform emerging plans for the land.
"In the event that the council proceed with a planning application for these lands there would be a requirement to prepare a more detailed and comprehensive planning pack that is in line with the policies in the County Development Plan and Planning and Development Legislation with regards to carrying out all the relevant ecological, arboricultural, flood risk and landscape assessments etc."