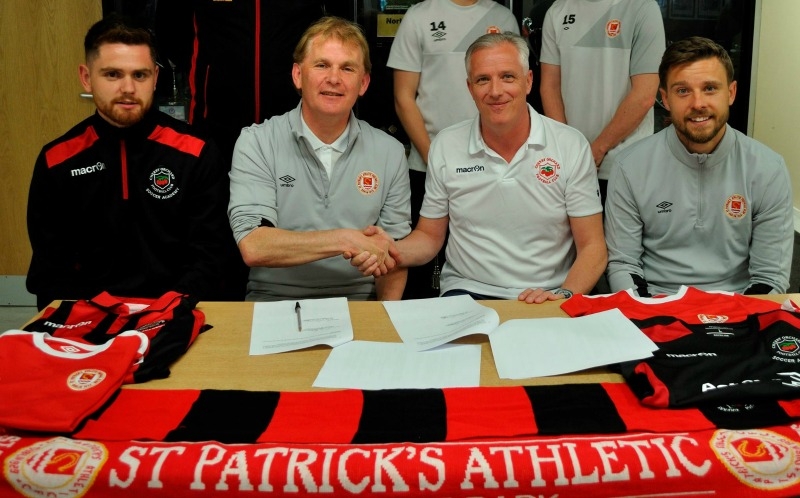 Pat's and Orchard announce new partnership
By Stephen Leonard
BALLYFERMOT king-pins Cherry Orchard have announced an official partnership with Airtricity League side St Patrick's Athletic.
The deal follows a lengthy period of discussions between both clubs, and an agreement has been reached that saw the two sides sign on the dotted line.
The West Dublin club are one of the giants of amateur football in Ireland, having produced the likes of Aberdeen's highly rated Scottish Player of the Year contender, Jonny Hayes, and Republic of Ireland International Glenn Whelan, who currently plays for Stoke City, amongst others.
This agreement follows on from similar tie-ups agreed with fellow Dublin clubs Crumlin United and Belvedere Football Club.
Crumlin United themselves are another powerhouse in Irish junior football.
Ex Republic of Ireland striker Robbie Keane and Brighton and Hove Albion midfielder Richie Towell are former players with the club, and it is also where Brian Kerr got his first stint in football management.
The agreement with St Patricks Athletic is now a year old, and it has led to a number of ex United players now treading the pitch in the red and white of the Inchicore club.
This latest partnership with the Ballyfermot giants, looks set to significantly improve the talent pool available to the Richmond Park club going forward.
Speaking to The Echo, the chairman of Cherry Orchard, Tom Kennedy, had this to say: "Being honest with you, this deal is a double edged sword for us.
"The fact the league of Ireland have introduced underage teams meant young players would automatically be interested in joining them.
"The last thing we want to see is our players leaving for another club.
"However, by doing this deal, we will still have players using the facilities in Cherry Orchard, albeit in the Pats colours, instead of the pitches lying idle and so forth, and our coaches will receive training from their coaches, so it's a win-win for both sides"
"With Pats being the local club, it made a lot of sense to go with them.
"We looked at the links they have also built up with Crumlin United, and Belvedere FC, and saw that they were serious about helping the teams they have joined up with"
St Patricks Athletic Director of Football Ger O' Brien, himself is a former Cherry Orchard player, is also excitied about the new partnership saying "We've been working on this for quite a while, after concluding tie-ups with Crumlin United last year and Belvedere three months ago.
"This is a deal we really wanted to get done, as we were very impressed at what Cherry Orchard have done in the last while, and the facilities they have built up there in Ballyfermot".
Regarding the two other clubs the Inchicore club have also linked up with, O'Brien added "The Crumlin United tie-up is going very well.
"We will be signing some of their Under 14 players to play with the St Pats Under 15 teams.
"We will also be doing the same with Belvedere" he added