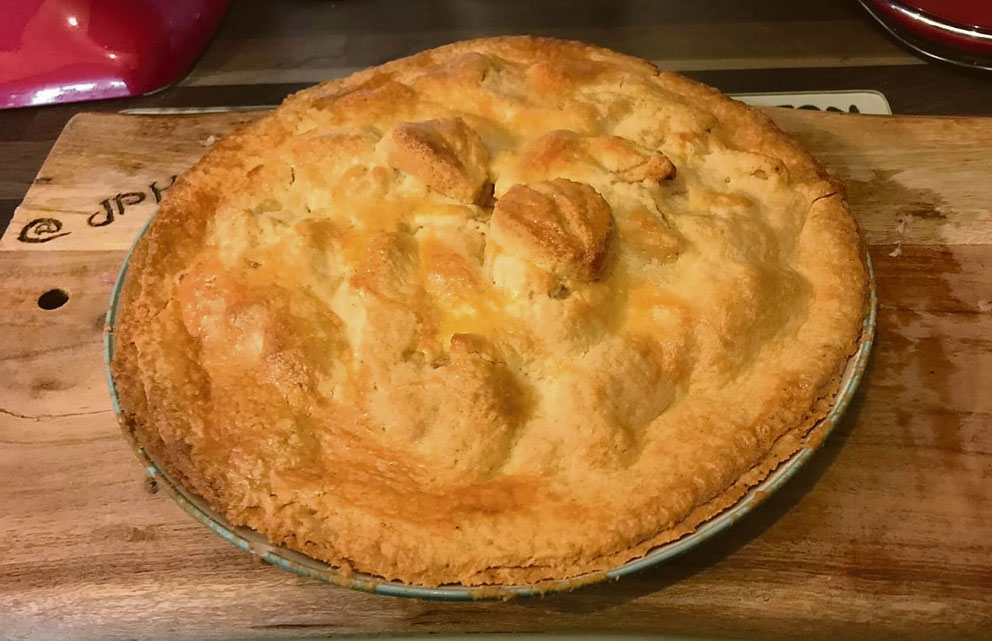 St Patrick's Day Food with JP Passion – The perfect Irish apple tart
John Paul Kennedy is a self-taught cook from Tallaght whose passion for family cooking came from his two grandmothers.
The perfect Irish apple tart
This recipe for the perfect Irish apple tart is hard to beat. It was inspired by the Saturday evening treat in my Nanny Rena's house in Firhouse.
Every Saturday she would make two of her delicious apple tarts, one was for Saturday tea and the other one was for whichever one of the family she visited the next day for Sunday lunch.
How we all loved when it was our Sunday to have her up for dinner, knowing that it was our turn to have her beautiful apple tart.
I don't think anything will ever top it but this recipe certainly comes close. I hope you're proud Nanny?
Ingredients:
Dough
350g plain flour
50g castor sugar
2 eggs
225g Fridge cold unsalted butter
Pinch of sea salt
Filling
3 large brambly cooking apples
150g castor sugar
½ tsp of cinnamon
2 tablespoons plain flour
Pinch of sea salt
1 beaten egg (to brush dough)
Method:
Cream the butter and sugar in a large mixing bowl together then add the eggs one by one until combined
Add in the flour and pinch of sea salt and combine until it forms a dough
Wrap in cling film and place in the fridge overnight or for 1 hour minimum
Preheat your oven to 170 degress.Peel core and chop the brambly cooking apples and pop into a large mixing bowl.
Add the sugar, flour, cinnamon and pinch of sea salt and mix well until the apples are evenly covered
Cut your dough into two pieces. Dust your work surface lightly in flour and your rolling pin and roll out the dough in a circular shape that will cover a round dinner plate.
Using your rolling pin lift and place the dough over the plate and place the apple mixture on top
Roll out the second piece of dough and place over the top of your tart. Trim off the edges and using a fork lightly press all around the edges to seal the tart
Cut a small cross on the top and using a pastry brush lightly brush evenly with beaten egg
Place in a preheated oven for 45 -55 minutes. The tart should be nice and golden and the apples nice and soft inside
Serve warm with whipped cream and enjoy.