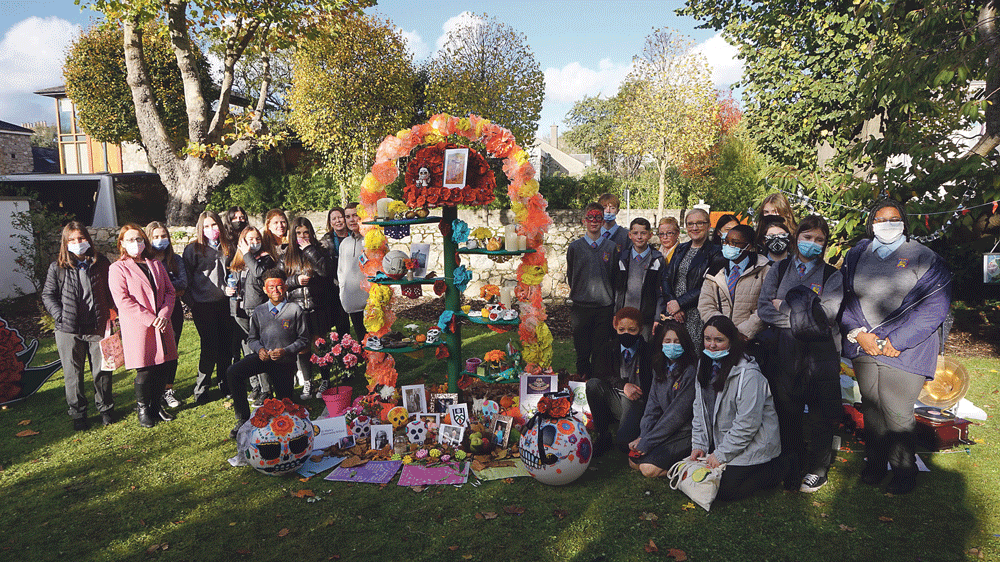 Students scoop top prize in Mexican embassy exhibition
Pupils at a Tallaght school who created an altar for the 'Dia de los Muertos' exhibition at the Mexican embassy had a fantastic achievement when they scooped first prize.
As reported recently in The Echo, first-year students at St Mark's Community School were chosen to create an altar to be displayed at the Mexican Embassy for the annual 'Dia de Los Muertos' (Day of the Dead) exhibition which took place from Saturday, October 30 to November 2.
The altar created by the students at St Mark's, which was made out of recyclable materials and dedicated to Irish poet and novelist Patrick Kavanagh, took home first place after it received the highest number of votes on Facebook.
"The Mexican ambassador is coming to our school to give us our prize for winning," one student, Ryan Kearns, told The Echo.
"We were the only team with no link to Mexico, all the other groups had at least one Mexican on their team. I had a good time at the Mexican Embassy and one thing I loved is how the day of the dead brings life to death."
The altar took three weeks to make in total, with each of the students taking on different jobs to make sure it was completed in time for the exhibition.
Speaking about the process creating the altar, student Sarah Lacatus said: "We learned about Patrick Kavanagh and read a few of his poems. We spent about three weeks collecting, building and decorating the altar with the help of many teachers and students.
"We used 99 per cent recycled materials, which is really important because we all need to be more responsible and sustainable and we used old desks to make the leaves of the flower, scrap metal to make the stem, painted disinfectant wipes to make the petals and computer packaging to make the flowers."
The exhibition was an opportunity for the pupils to visit the Mexican Embassy and learn more about Mexican culture by trying traditional Mexican food and meeting the ambassador.
"It was very fun going into the embassy. We listened to Mexican music, practised our Spanish and ate Mexican food such as tacos," said student Dante Idehen.
"I also got to meet the ambassador which was really cool – he represents the entire country of Mexico in Ireland."