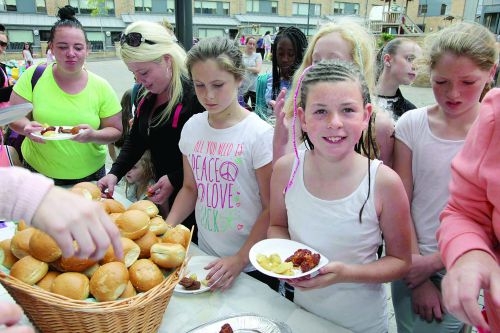 Thornton tenants celebrate one year in state-of-art homes
By Maurice Garvey
RESIDENTS in Thornton Heights, Inchicore, marked the first-year anniversary of their new state-of-art homes with celebrations last week.
The event featured a festive atmosphere with a street party, including face-painting, sports and food platters.
President Michael D Higgins launched the long-awaited social housing regeneration project on a glorious sunny day last year.
The project was delivered after a 16-year battle by community action groups, who pushed for its completion after previous failed development bids, and the subsequent downturn in the economy.
Formed by a partnership between Dublin City Council and the St Michael's Regeneration Board, Thornton Heights replaced the tower blocks at St Michael's Estate, which was built in the 1960s. Only 11 former tenants moved back to Thornton Heights, due to long delays in the process.
It is comprised of 75 houses and apartments, crèche and after-school project.
Some 68 families and seven single residents live at Thornton Heights – a development managed by Circle Voluntary Housing Association on behalf of Dublin City Council.
Chief executive of Circle VHA, Justin O'Brien, addressed the celebrations gathering and said: "Thornton Heights is a wonderful, high-quality, designed scheme. Living there has brought much joy to our tenants, many of whom were previously living in overcrowded or substandard accommodation and some of whom were homeless.
"There were great celebrations last September when the development was officially opened by President Michael D Higgins. We are delighted that the community spirit is such in this development that residents have chosen to mark their one-year anniversary. We are happy to support the tenants' committee in this celebration."
Competition: Win a Catrice Cosmetics goodie bag – just click here…
Latest News: Homeless family finally get accommodation in Tallaght…
Latest News: Over 10,000 local families struggle to meet school costs…
Latest News: Residents fear that 'waste facility' will cause problems
Latest News: Second arson attack on school inside four months…