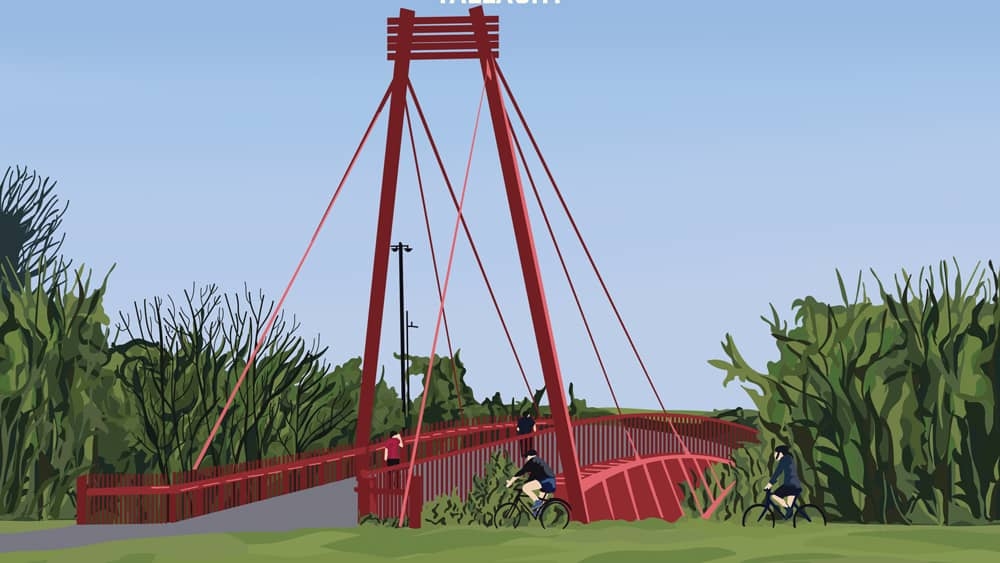 Vibrant Local Digital Art – Lisa Murray is inspired by her hometown
By Aideen O'Flaherty
A young digital artist from Tallaght has been creating vibrant and arresting artworks inspired by her hometown – depicting sights such as the Bohernabreena Reservoir, The Square, and medieval buildings in the locality.
Lisa Murray, 23, is currently in her final year of college at TU Dublin - Tallaght Campus, where she's studying media production and digital arts.
After spending a semester abroad at a college in Hamburg just before the pandemic started, Lisa, who is from Old Bawn, came back home with a renewed appreciation for Tallaght – and this filtered through into her creative work.
"I've lived in Tallaght for most of my life and grew up hearing of Tallaght's bad reputation in the news," Lisa told The Echo.
"It was only after being away from the area on an exchange semester in Hamburg just before Covid-19 hit, that made me really appreciate where I grew up.
"When I returned, my love and appreciation for Tallaght really came to light. Being confined to a 5km radius for most of the past year allowed me to explore the nature, history, and beauty of Tallaght.
"Very few places leave you so close to the bustling city centre, but also a five-minute drive has you feeling like you are in the middle of the countryside.
"I've also never met a group of people who are prouder of where they come from than people from Tallaght.
"All of this combined is what really inspires my work and leaves me wanting to show others how lovely Tallaght truly is."
A past pupil of Coláiste de híde, Lisa sells prints of her artwork on Etsy, and last month she donated 50 per cent of a week's worth of proceeds from her Etsy shop to the 24th Tallaght Scouts' fundraiser, as the groups funds have been decimated as a result of the pandemic.
Donations for the scouts' fundraiser are being accepted online at tinyurl.com/TallaghtScouts.
"I was an active member of 24th Tallaght Scouts for over eight years growing up," explained Lisa, "and although I haven't been in much contact with them in the past few years, once I heard of the news of a possible closure, I knew I had to help.
"The scouts gave me so many fantastic memories, skills, and friendships over the years that continue today.
"I wanted to give back to a group who has really influenced me. It would be terrible for the same opportunities to disappear for the young people in Tallaght."
When asked about the many different facets of Tallaght that are reflected in her artwork, from historical structures to modern developments, Lisa said it was an important way to showcase the variety in the area.
"There are so many faces of Tallaght, from the culture and history of the area to the industry, and the new modern lifestyle," she said.
"I want to celebrate all of these aspects and showcase Tallaght, as it is often overlooked for its beauty and culture."
For more information on Lisa's work, follow Murray Design on Instagram and Facebook, or visit her Etsy shop at www.etsy.com/shop/MurrayDesignStore
By subscribing to The Echo you are supporting your local newspaper Click Here: Echo Online.