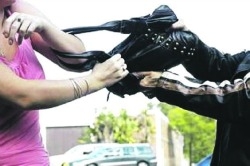 Bag-snatch warning by Lucan gardaí
GARDAÍ in Lucan are investigating incidents surrounding an "opportunist" handbag thief, who is targeting single women from a silver saloon car.
A woman was walking from a bus stop on the Lucan bypass into Hillcrest at approximately 6.30pm on Tuesday (January 20), when she was a accosted from behind by a young male, who stole her handbag. In another incident at Hanstead on Tuesday, a woman got off the bus at Newcastle Road, and was accosted by what appears to be the same culprit. The thief is described by gardai as a young male, early 20s, short hair, and driving a silver-type saloon car.
Gardai told The Echo: "The woman in Hillcrest was approached from behind at approximately 6.30pm on Tuesday, and suffered a minor hand injury. The matter is under investigation."
Independent Councillor Liona O'Toole has urged women to be vigilant, and encourages residents to report any unusual activity to gardaí. Read full story on page 23 in this week's Echo, Lucan Edition 22nd January 2015.