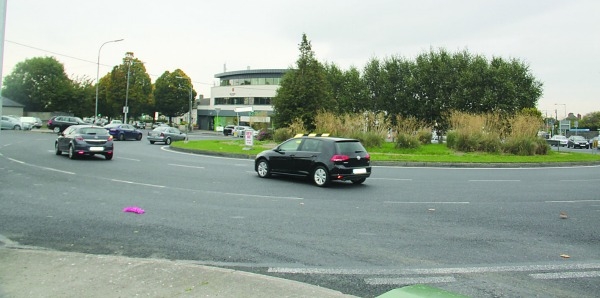 Bus corridor study puts €2m project on hold
By Maurice Garvey
PLANS for a €2 million works project on Walkinstown roundabout are on hold – after the National Transport Authority (NTA) initiated a bus corridor study.
As reported in The Echo last year, South Dublin County Council plan to reduce the approach to Walkinstown roundabout from three lanes to two lanes, in an effort to "increase efficiency" and "improve pedestrian and cyclist safety."
Works were initially meant to commence in summer, but this is now on hold, until the NTA approves the bus study. The NTA are funding the project.
Walkinstown roundabout is one of the busiest in Dublin. Roads off it are located in South Dublin County Council and Dublin City Council areas.
While a number of councillors accept the roundabout can be dangerous, others such as Crumlin/Kimmage Cllr Pat Dunne (PBP), fear the reduction of lanes will result in "longer tailbacks."
During a presentation to DCC last November, SDCC officials working on the project said the works planned are "not dramatic", but are required in order to tackle a "chaotic roundabout."
SDCC said one of the problems was the "high speed of traffic on the roundabout."
Reducing circulation speed will make a "more effective use of the roundabout and better gap acceptance."
The outside arm (left lane on approach) at Walkinstown is considered to be ineffective, with cars "sitting out" waiting to enter the roundabout and "cutting off lanes."
Plans include wider pedestrian crossings, cycle lanes, and wider pedestrian footpaths with 11,000 sq.m. of additional footpath to be added.
Independent Councillor Dermot Looney asked for an update on the plans at the recent Rathfarnham ACM.
In response SDCC said: "Walkinstown roundabout plans are now on hold as the NTA have initiated a bus corridor feasibility study from Tallaght/Greenhills through Walkinstown to Crumlin.
"When the study is complete, July 2016 at the earliest, a further review of the Walkinstown Roundabout proposals will be carried out to include the results of the study, and then NTA approval will be sought to proceed to complete the design and consultation process."
READ MORE…
Eight armed robberies occurred
in Tallaght in the past
week>>>
Pitch and putt club forced to put
some of their land up for
Five local shops robbed in one
Marina's story touches the hearts
of the Irish people>>> Click HERE
Cautious welcome to sports hall
'I know who killed my son and his
partner' says dad>>> Click HERE