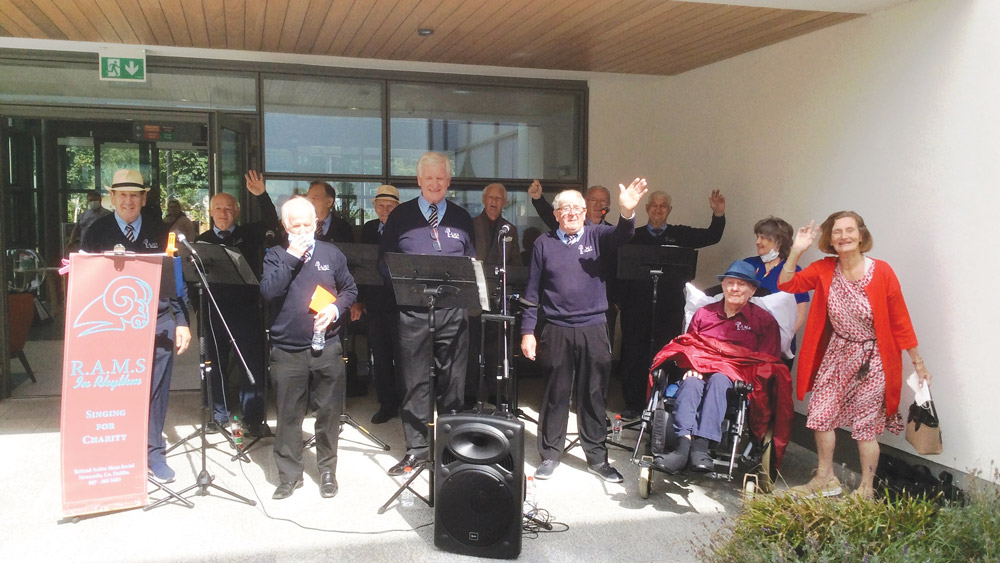 Celebrations all round for Jack with RAMS in Rhythm pals
THE 90th birthday of Jack Sheerin was celebrated in Peamount Hospital last Saturday with a performance by his colleagues in the RAMS in Rhythm choir.
Jack has been an active member of the Newcastle-based RAMS [Retired Active Men's Social] since it was founded in 2010.
He has sung with the RAMS choir for charitable causes all over the county, but last weekend he was treated to a performance by the singers to mark his milestone birthday.
"It was a wonderful birthday surprise for Jack, and to the delight of his family, who also came to visit and celebrate the day with him," said Matt Dowling from RAMS in Rhythm.
"Lots of his family attended, and to the delight of his wife Sheila, who was over the moon with the high spirits, and exuberance of all the guests."
The choir's repertoire on the day consisted of a collection of Jack's favourite songs, including 'My Best Friend', which was one of Jack's favourite pieces when he was an active member of the group.
Another highlight of Jack's 90th birthday celebration was the presentation of a cake that was made by the daughter of one of the RAMS in Rhythm performers.
Jack's wife, Sheila, spoke of her husband's background, such as being born to Irish parents in New Jersey, before setting sail for Ireland with his parents at age four.
The Sheerins settled in Boyle, and after finishing his education Jack went on to work as manager in a number of Bank of Ireland branches around the country.
In 1995, Jack moved to Newcastle and became an active member of the community through his involvement in his local church and, following his retirement, his time spent in RAMS.
Jack, who is a father of five, grandfather of eight and great-grandfather of six, is currently a patient in Peamount Hospital, and his birthday celebrations brought a sense of levity to the patients and staff.
The music director of RAMS in Rhythm, Liam O'Donnell, praised Jack's contribution to the choir over the years and wished him a happy birthday with good health and happiness in his future.
"It was a little emotional, but we did well to hold back the tears," added Liam.