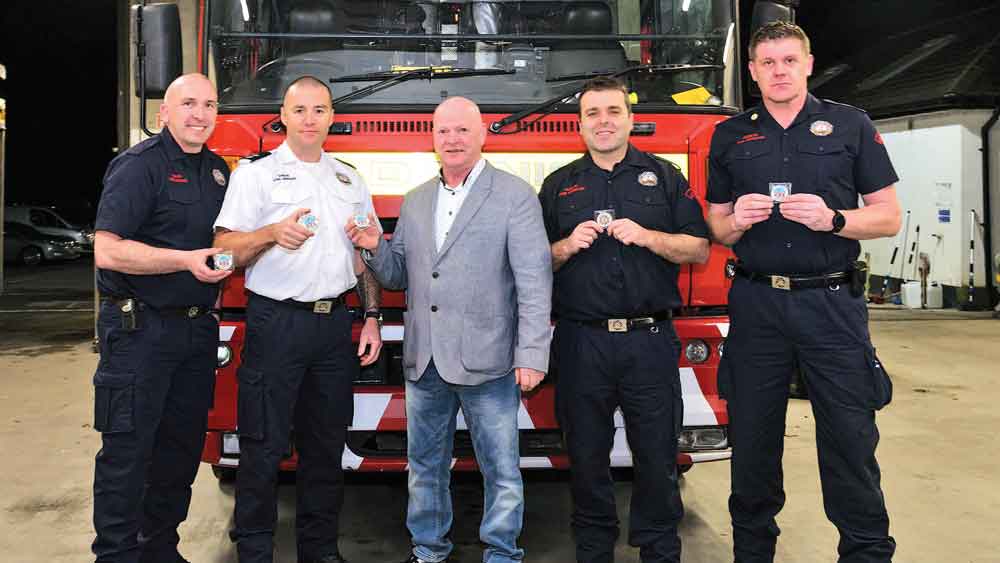 Challenge coin depicting Tallaght Fire Station to benefit Hope
A CHALLENGE coin designed by a Tallaght firefighter in aid of local suicide prevention charity HOPE (Hold On Pain Eases), and commemorating the 40th anniversary of Tallaght Fire Station, recently went on sale.
Local firefighter Derek Riordan, who has been based in Tallaght Fire Station for the last three years and worked in Nutgrove Fire Station before transferring, started designing challenge coins as a hobby back in 2019.
In the intervening years he has developed some coins for collectors, while others were designed for charity fundraisers.
His latest challenge coin, depicting Tallaght Fire Station in recognition of its 40th anniversary next month, went on sale in the last fortnight in aid of HOPE.
Mr Riordan told The Echo: "This year, I decided to do a 40th anniversary coin for Tallaght Fire Station, and I thought, who better to benefit from it than a local suicide prevention charity?
"The coin is already getting a great response from people in the fire station."
For Ray Conlon from HOPE, which is based in Westpark Gate in Tallaght Village, the challenge coin will generate much-needed funds for the group, after the pandemic hampered their ability to fundraise.
"We've been very busy, but we've missed out on our fundraisers because of the pandemic," explained Mr Conlon.
"Every cent counts and makes a big difference to us and there's living proof that we're saving lives.
"The money raised will do quite a lot for us.
"Our rent is a big cost, and our electricity costs are through the roof – we've a lot of overheads."
In the coming weeks, HOPE will deliver a suicide awareness course to staff from Tallaght Fire Station and Tallaght Garda Station.
Next month, staff at Tallaght Fire Station are hoping to organise an event to celebrate the 40th anniversary of the opening of Tallaght Fire Station, which occurred on April 24, 1982.
The station started out as a one-pump station, before developing into a two-pump station in the early 2000s as the population in the area continued to grow.
The challenge coin is an early celebration of the anniversary, with Mr Riordan adding that he hopes to raise between €1,500 and €1,600 for HOPE as a result of the sale of the coins. Z
The coins, costing €10 each, are available by emailing Mr Riordan directly on derek.riordan1045@gmail.com.
HOPE can be contacted via phone on 089 610 5476, or by messaging the HOPE Suicide Prevention Centre Tallaght Facebook page.