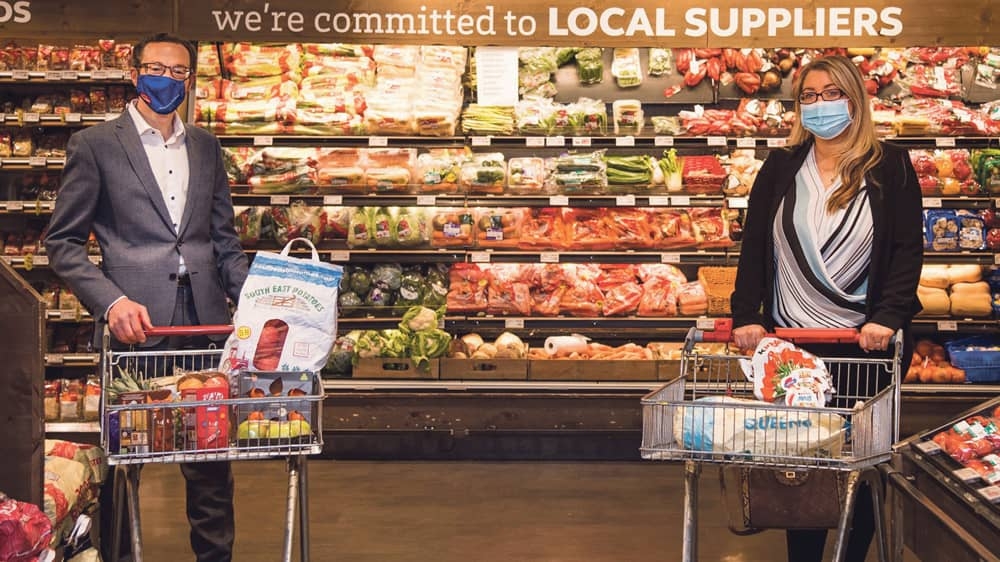 Datapac's €200,000 deal to digitally transform business
By Muiris O'Gairbheith
DATAPAC, which has offices in Ballymount, is helping retail and property group Caulfield McCarthy to digitally transform its business, including its three SuperValu stores, in a deal worth €200,000.
The new solution is allowing Caulfield McCarthy's 300 employees to access information and work together seamlessly and securely – whether that's the shop floor, office or remotely.
Michael O'Mahony, Director of Finance at Caulfield McCarthy Group with Christine Fortune, Business Relationship Manager at Datapac, at the announcement that Datapac has helped Caulfield McCarthy Group to digitally transform its business, including three SuperValu stores, in a deal worth €200K
Datapac moved Caulfield McCarthy's network from an on-premise server set-up to an entirely cloud-based infrastructure - making cloud services like Microsoft Office 365 and Windows Azure available across the organisation.
The technology services provider also upgraded the Wi-Fi network in the group's stores in Waterford, Kilkenny and Bandon, Co Cork, to ensure the new cloud infrastructure works reliably across all devices.
This transformation of Caulfield McCarthy's infrastructure is part of the group's overall tech-led business strategy, including enhanced instore technologies and a target of 25 per cent year-on-year growth in online sales.
In addition, Datapac implemented a new unified communications solution, enhanced the organisation's security, and is responsible for the ongoing proactive management of its IT.
Christine Fortune, Business Relationship Manager, Datapac, said: "We're delighted to work with Caulfield McCarthy and to support its growth through a reliable, secure and high-performing IT infrastructure. By embracing the very latest technology across its operations, Caulfield McCarthy is future proofing its business.
"People right across the organisation are buying into this forward-looking, tech-led culture, which is making a real change to the way they work. Caulfield McCarthy are also well positioned from a security and compliance point of view, and now have a scalable cloud infrastructure that can grow in-line with the business's continued success."
By subscribing to The Echo you are supporting your local newspaper Click Here: Echo Online.