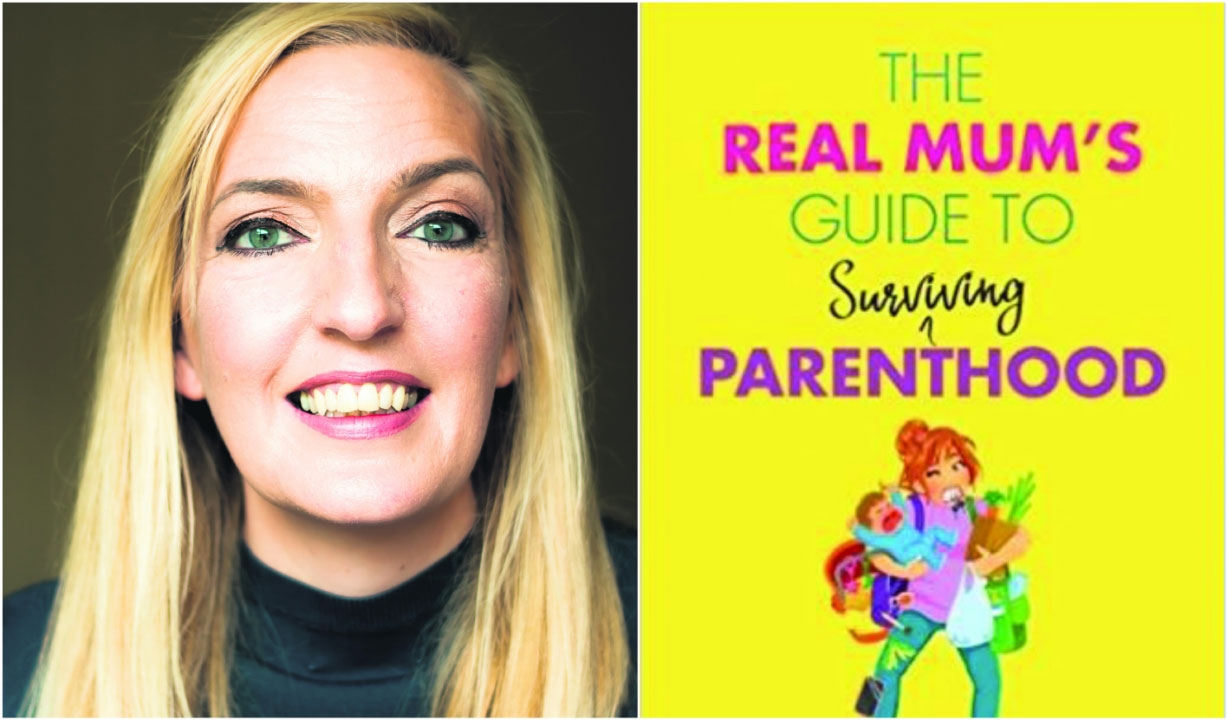 Debut book for Tallaght native and mother-of-seven Jen Hogan
By Aideen O'Flaherty
A MOTHER-OF-SEVEN has imparted her parenting wisdom and woes in her debut book The Real Mum's Guide to (Surviving) Parenthood, which has already reached number one in Hodges Figgis' bookshop.
Jen Hogan, who is originally from Cookstown in Tallaght, covers a wealth of topics in her book including postnatal depression, toddler terrors, and the primary and secondary school years.
Delivered with an engaging and at points amusing assessment of how to embrace both the perils and positives of parenthood, the book serves as a conversational and relatable read for parents at any stage in their parenting journey.
Jen took some time out to speak to her local paper about being a mother, what her children think about her being a writer and the feedback her book has received so far.
When did you first start writing?
I first started writing about 18 months ago. I was on maternity leave following the birth of my seventh child and I decided to start my parenting blog Mama-tude.
It was an outlet for me and a place to combine two great loves – parenting and writing. Within a relatively short space of time I began writing parenting and lifestyle articles for newspapers and magazines.
What prompted you to start writing about parenthood?
I really wanted to write a book that was relatable and supported parents on their parenting journey. One that made them laugh, cry, hopefully nod along in agreement, and offer some tips that might help with the more challenging aspects.
Something that was real, based on real experience and real insights. No instruction manual comes with children.
First babies create first time parents and for parents of second and subsequent children who figure they might have it sussed, a whole new little personality and a change in the family dynamic brings its own adjustments.
I found parenthood very different to what I expected and I wanted to write about the realities no matter what stage of parenthood you are at.
What do your children think about your writing?
My children's reactions to my writing has varied depending on their ages. The older kids were so proud when the book came out. Some of the children loudly point out my book in the shops whenever we go into one and spot it.
Some brought it into their school for show and tell. Others think "sure it's just what Mammy does". It becomes their norm very quickly, but a school friend mentioned it increases my coolness rating!
One of my children has great plans to become a writer when he's older, so he was particularly impressed.
What is like to be a mother of seven?
Fantastic and exhausting in equal measure! It's an incredible privilege to be a mother seven times over and I love watching them together and seeing their own relationships develop.
Raising seven children is a huge amount of work though, especially as expectations of parenthood have changed.
I'm not sure where the phrase "they rear each other" came from. I think it must be an urban myth! When you see the love and support they have for each other, the fun they have together (in between the squabbles of course), and the manner in which the younger children mimic their older siblings, it's just magical.
What advice would you give to any first-time parents?
To take the time to get to know your baby, and parent instinctively. Don't force a schedule. Pick up your baby and have all the snuggles you want – you cannot spoil your baby.
Being born is an adjustment for baby too and they need lots of reassurance. Let people know what you want, whether that's visitors to help you, or space to find your feet.
People often don't know how best to support you in your new role as a parent – so tell them.
What do you wish you had known before you became a mother?
I wish I'd known how isolating new motherhood could be, and to get out there and find my tribe. None of my friends were having babies at the same time as me.
Making friends who are at the same stage of life as you can be a sanity-saver. I found mother and toddler groups and local meet-ups great, but the early months before I discovered them were very lonely.
What has the feedback from your book's readers been like?
The feedback has been overwhelmingly positive. Some people have said that they felt like they were having a chat me while reading the book – even people who have never met me, which I found amazing.
I've been told by readers that they really enjoyed the humour, and others have said that they appreciated me touching on some of the more sensitive aspects of parenthood.
Another person said that they could tell the book was written by a real mother who 'got' the challenges of parenthood. I'm always so grateful for the feedback – it's humbling to think of people reading your book.
The Real Mum's Guide to (Surviving) Parenthood is out now, and you can find out more on Jen's Facebook page, www.facebook/Mama-tude