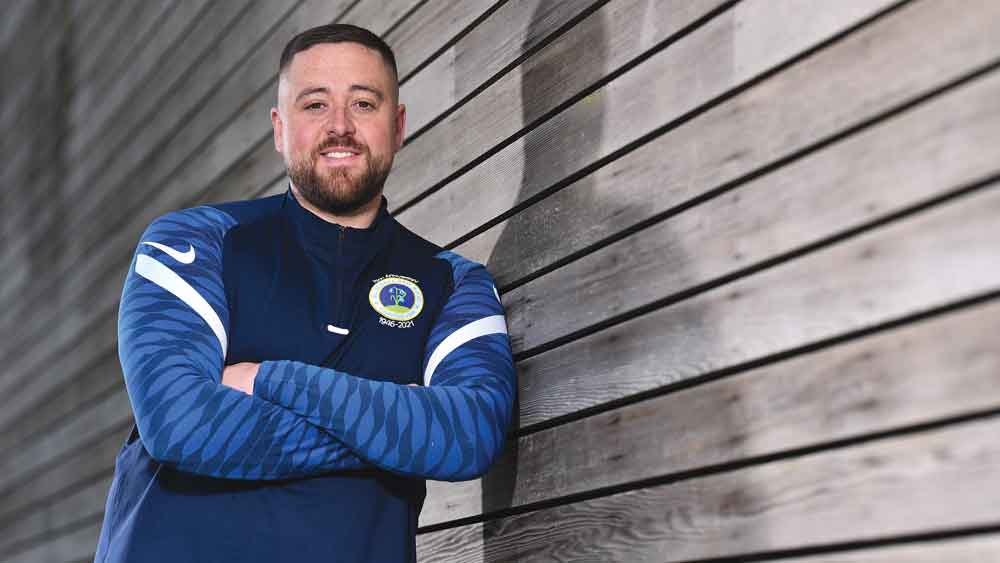 Dolan insists his Bluebell boys can take that final step
BLUEBELL United manager, Shane Dolan insists his players deserve nothing more than to bring home the FAI 2021/22 Centenary Intermediate Cup from Turners Cross this coming Saturday.
The Leinster Senior League side head to Cork to face off against Rockmount in the decider, hoping to cap what has been a remarkable year for the side.
Given that he only took charge at Bluebell last year and was immediately faced with a mammoth task of rebuilding a senior section following the departure of the previous management team, Dolan, his backroom staff and his players have certainly delivered against the odds.
"I had a lot of critics when I got the job, a lot of people saying we'd be relegated, the club would fold by Christmas , I'd be sacked" Dolan told The Echo.
"When I took over the job, I had two or three signed players between two squads, so I had a full re-build to do.
"There were sleepless nights, hours and hours on the phone pre-season, worrying will anyone turn up to the sessions you were putting on.
"I had Shaun Maher with me, a really highly-qualified coach and a very experienced professional himself.
"And I had Brian O'Shea, the goalkeeping coach, another well-known figure in football and we've all worked tirelessly.
"Just after the [Intermediate Cup] semi final against St Francis, I went out on the pitch to ring my partner, Jennifer, and I sat on the pitch for about ten minutes and I got a bit emotional.
"It just hit me that all the hard work had paid off and I was just so proud and so pleased for the players.
"They weren't oblivious to the noise and the critics at the start, people writing them off. "We had a brilliant start to the season and then we got a couple of injuries and suffered a dip in form.
"But, then from Christmas, I think we had nine wins in a row, so they really picked it up.
"They fully bought into what we're doing.
"They've given it 100 percent in training and in every game and that's all I can ask for as a manager.
"They're fully reaping the rewards by getting to this big final and they thoroughly deserve it.
"They deserve all the plaudits and I really hope, for them, that we can go one step further and bring home the trophy they deserve" he said.
Standing in their way of the coveted prize this weekend is a Rockmount side that Bluebell have recently beaten in the FAI Senior Cup preliminary round, but Dolan is adamant he and his team will not be reading too much into that result.
"We beat them 3-1 after extra time, but I wouldn't read too much into that. I know they rested a few players and didn't even bring a few lads up from Cork.
"Every game is completely different, especially a cup final.
"It's all about on the day. "So we won't read too much into that result, but it was a great win for us, because we're into the first round proper now, so hopefully we'll draw one of the big boys and it's something great for the club to look forward to.
"It was a good game. Rockmount are unbeaten all season in the Munster Senior League, so we'll be under illusions as to how tough a task it will be.
"But I have full belief in my lads that we have what it takes to go down and bring that trophy home. "We've only one or two slight injury concerns in a squad of 18 to 20 so everyone's absolutely buzzing at this stage.
"This is the reason why you play football, to get to these occasions, to get to cup finals and compete against the best, so we're really looking forward to."