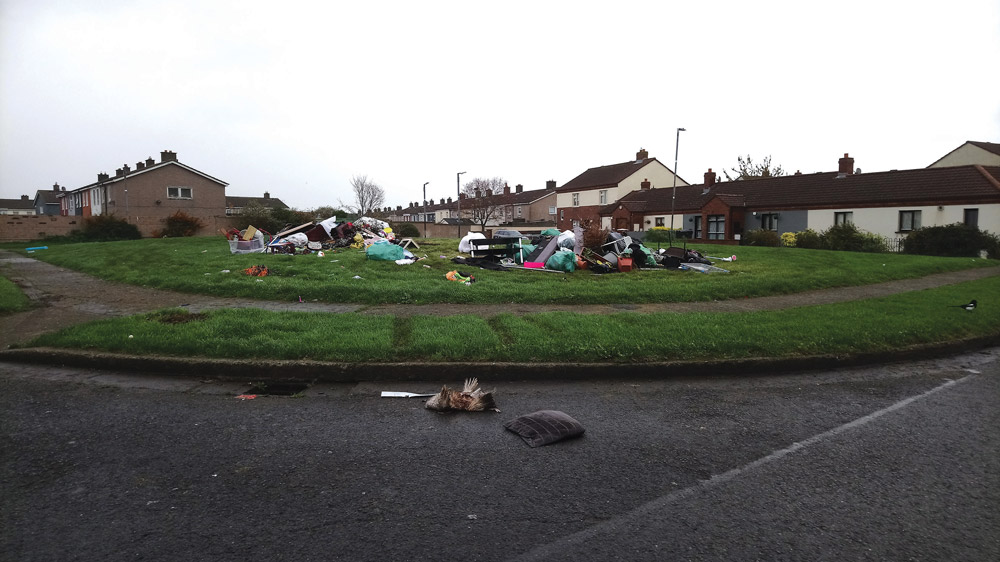 Estate 'left to wrack and ruin' with dead gulls found in area
AN ESTATE is being "left to wrack and ruin" with ongoing issues around social depravation and resulting anti-social behaviour, with the matters being raised by a resident with concerns around bonfire material.
A resident, who asked to remain anonymous out of fear of reprisals, of Glenshane estate in Tallaght contacted The Echo this week after the remnants of a bonfire became a fly-tipping spot.
Nine days after Halloween, the remnants of the fire had yet to be cleared and the resident was frustrated with the lack of action, which lead to the site being used for illegal dumping.
"This site used to be a public green but has since become a dumping ground for outsiders who come here in cars and vans to dump their rubbish on our doorsteps," they claimed.
"There are dead gulls lying about the place where children play and it is a public health hazard.
"The residents have rung the council a number of times to get something done, but so far they have not responded. Every day there is more and more rubbish building up on the green."
The day after the resident voiced their concerns, representatives from the local authority cleared the waste.
A spokesperson for the council told The Echo that "the process of surveying, mapping and clean-up of bonfire sites is currently underway but is not yet complete and it is therefore not possible at this time to give accurate information on the number of sites or the full cost to the Council to respond to Halloween bonfires in 2022".
"It will take a further two weeks approximately to remove all burnt materials from bonfire sites and it is only after this is completed, that we will have a final figure on the number of bonfire sites and their locations, the amount of waste removed and the cost to remove and dispose of it," the council spokesperson said.
While the material was cleared, the resident is still exasperated with the lack of amenity and resources in Glenshane.
"Nobody seems to care at the minute," they said.
"Glenshane has been abandoned and forgotten about. No, there's no amenities.
"There is a severe lack of services and resources in here.
"You honestly have to see this place to believe it, it's like a third world country because it's being left to wrack and ruin.
"The field has become a hub for anti-social behaviour, the green is used for burning rubbish, there's a burnt-out house on the edge of the estate, a house was petrol bombed a while ago.
"This estate has been neglected by the authorities and it's being run into the ground.
"But nobody wants to say anything, they're afraid to come out to confront anyone dumping or engaging in anti-social behaviour in case there's any retaliation.
"The people need to be given their pride back, there's no pride in this estate anymore. It's time to make it a home again."
While there were no specific incidents which were raised, the resident did state that there are regular enough issues of anti-social behaviour to the point where it feels like the estate has been "abandoned".
Even though Glenshane is technically not in his Local Electoral Area, Cllr Charlie O'Connor has received several complaints about the issues in the estate.
"I was contacted by residents in Glenshane who were firstly concerned that the bonfire took place and secondly concerned about the speed in which it was cleared," Cllr O'Connor told The Echo.
"In fairness to them, the council would take the view that if a bonfire is still smouldering, they have to wait to clear it.
"I bring any potential issues around anti-social behaviour to the relevant gardaí and people in South Dublin County Council who deal with anti-social issues.
"If they are tenants, then there is the potential there to take action.
"I suspect I'm not the only councillor who is getting calls about issues in Glenshane, and people should be able to live in peace.
"We take all of their concerns seriously, and rest assured, appropriate action would be taken if it is seen fit."
If you are a victim of anti-social behaviour, the council recommends contacting your local Garda station firstly.
Tenants of SDCC can call 014149000, email cccounter@sdublincoco.ie, freephone 1800200245 with details of anti-social behaviour incidents or fill out a report form which is available at HERE.