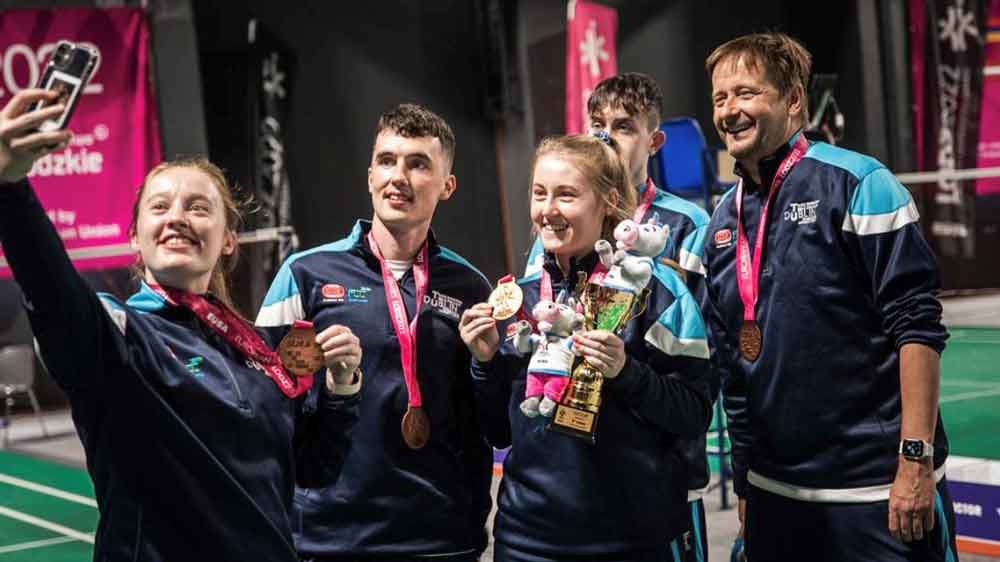 European Games bronze for TU Dublin Badminton team
TU DUBLIN Badminton team captured bronze from among a field of 19 universities competing at the European Universities Games in Łódź, Poland this week.
Drawn in Group B with University of Bordeaux (France), University of West Bohemia (Czech Republic) and University of Cyprus, the Dublin side kicked off their campaign with a thrilling 3-2 victory over the second-seeded French.
David Walsh and Moyà Ryan battled back from a set down to win in three close sets before Templeogue woman, Kate Frost edged them 2-1 in front with a singles win.
The French managed to restore parity in the men's doubles only to see Frost and Moyà Ryan combine for victory in the decisive match.
Facing University of West Bohemia next, the Irish went 2-1 up thanks to singles wins for Walsh and Frost before the former, together with Conor Bradley were narrowly beaten in the men's doubles.
Yet, again Frost and Ryan pulled it out of the bag in the women's doubles for another narrow triumph.
Knowing a win in their final group match would see them top Group B and guarantee bronze, all TU Dublin players served up wins to see them beat University of Cyprus 5-0.
Taking on University of Strasbourg (who also topped their pool) in the semi final on Day Two, the Dubliners lost out 3-1, with Walsh winning his men's singles tie.
Delighted at seeing her side reach the podium, Frost said "It has been a great start for us competing in European University competition and I am so proud of this team to be bringing home a bronze medal.
"From being the bottom-seeded team in the competition to a spot on the podium, it feels amazing and it is great that we could carry on our good level after winning the Varsities back in April.
"A first Varsity win and a first European medal all in one year, this will, for sure, go down as one of the best years in TU Dublin badminton history" she told The Echo.
The players will now turn their attention to individual and doubles competition in which they will be again pushing for podium spots.