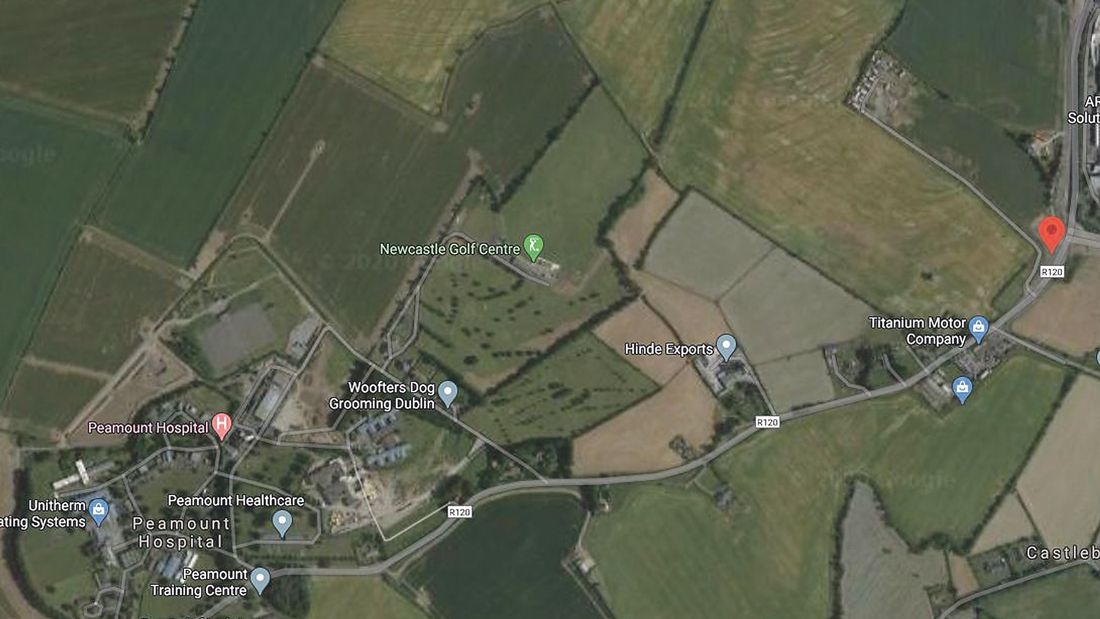 Gas-fired power plant in the pipeline for Newcastle
By Aideen O'Flaherty
PLANS for the development of a gas-powered power plant in Milltown, Newcastle have been lodged with South Dublin County Council.
Data and Power Hub Services Ltd, with an address in Meath, submitted their application for planning permission last month.
Newcastle power plant site
It is proposed that an existing single-storey stable building, a single-storey house called Little Acre, and its associated garage and other buildings, are to be demolished to make way for the development, located within the townland of Milltown, to the north of Peamount Road (R120), in Newcastle.
However, the applicant noted in their application that they will not be demolishing the part single- and part two-storey property of Bulmer and an agricultural building to the east of the overall site.
The power plant compound of 14,475 sq m is to contain two power units, each with 1.25m height stack (two overall), transformers, air intakes and electrical modules.
The power plant compound will also contain a two-storey administration and workshop building (427 sq m) and LV switchgear building (140 sq m) (567 sq m in total), plus an AGI connection, gas compressor, water tank, water treatment, firewater tank, and pumps.
Provision for fuel skids, a fuel tank and one emergency diesel generator is included, and the proposal also includes a battery energy storage system compound of 3,300 sq m containing 15 battery containers and 15 inverters that will be linked to the power plant.
It is also stated in the application that the development will be accessed from a new vehicular entrance from Peamount Road that will provide access to the power plant at the rear of the site.
Provision for all ancillary site development works, including attenuation pond and dry swales to connect to existing infrastructural services and network as well as fencing, signage, services road entrance gate and eight car-parking spaces is included.
There are plans for the development to be enclosed with landscaping to all frontages.
The application was concluded with the statement that an EPA-Industrial Emissions Directive (IED) licence will be applied for to facilitate the operation of the proposed development for a period of ten years on a site of 8.2 hectares, on lands that contain the two residential properties of Little Acre and Bulmer.
A decision on the application is due from South Dublin County Council by April 23.