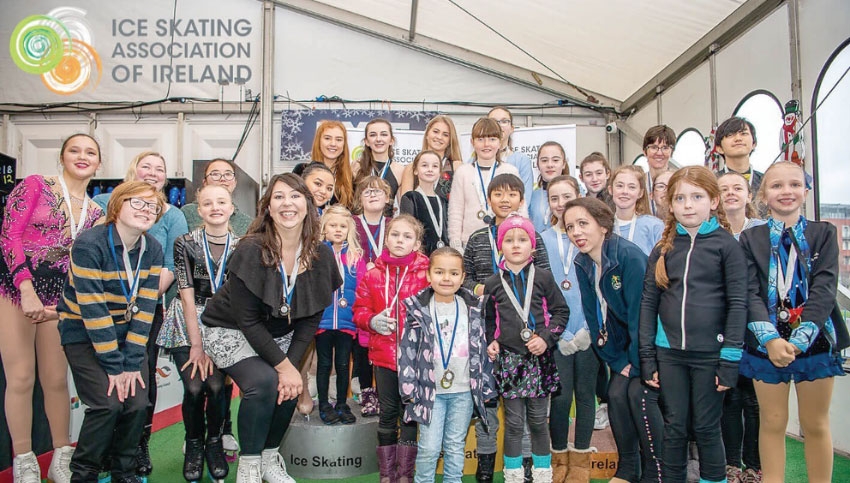 ISAI's Winter Challenge proves huge success
THE SECOND Winter Challenge hosted by the Ice Skating Association of Ireland (ISAI) took place at South Dublin On Ice in Tallaght on Saturday with the figure skating competition featuring 27 competitors in six different categories.
This year's competition attracted participants from across the county including local skaters from Blessington, Knocklyon, Rathfarnham, Templeogue and Tallaght.
Young skaters who took part in the ISAI's Winter Challenge at 'South Dublin on Ice' in Tallaght
Event One was won by Sasha Skrypchenko from Cabinteely with Event Two going the way of Ricky Young from Knocklyon.
Among the other category winners were Wicklow's Georgia Snow (Event Three), Justina Tkacheva from Wexford (Event Five), Faye Donohoe from Templeogue (Event Six) and Sophia Tkacheva from Wexford (Event Eight).
Thomas McDermott, Co-ordinator of the South Dublin County Sports Partnership was on hand to make the presentation of medals.
In addition to the competition, Ireland's first synchronised skating team performed. This involves up to 16 skaters completing various technical elements in a group format.
Seven ISAI members, under the instruction of former Italian national team member, and synchro World Championship competitor, Sara Cerchia, performed a routine to "Viva La Vida" by Coldplay.
"Participation in ice skating in Ireland over the past number of years has been phenomenal and we are delighted to see people of all ages and abilities enjoying the sport so much," said ISAI President Karen O'Sullivan.
"We need an ice rink in Dublin for more than 10 weeks every year to provide growth and oppor-tunity to develop the talent we have here," she added.