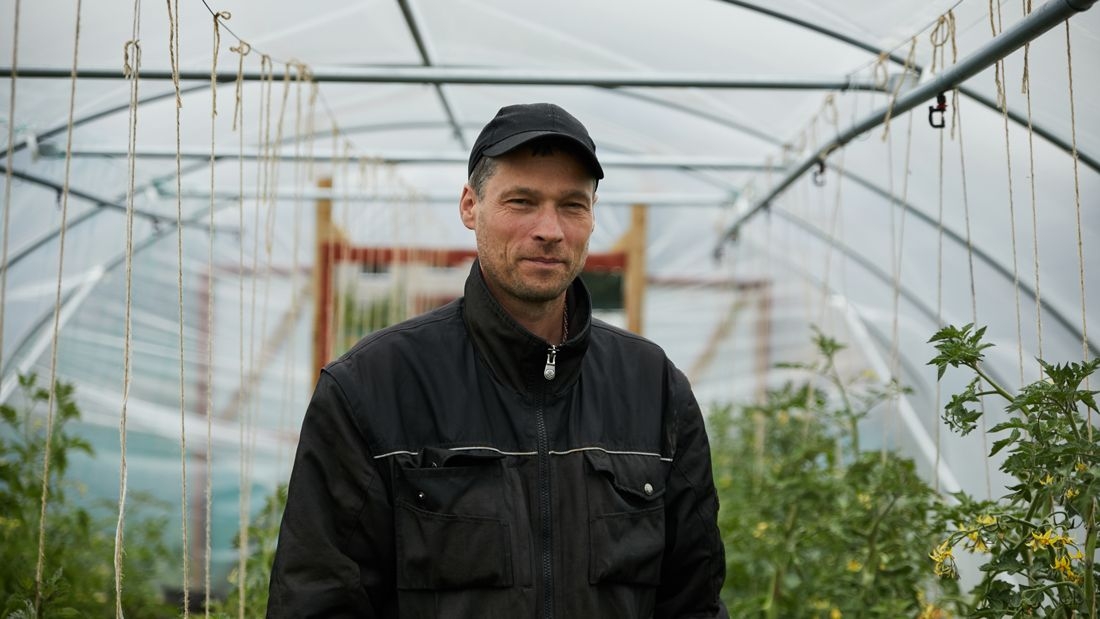 Local Faces: Peadar Lynch, Cherry Orchard Community Garden
By Maurice Garvey
CHERRY Orchard always had the name but now it has a fully functioning community garden that incorporates involvement of residents with a steadily growing social enterprise.
The two-acre Cherry Orchard Community Garden, located beside the Equine Centre, has come on leaps and bounds over the last year, containing among other things salad gardens, allotments, and a busy beehive.
Peadar Lynch (Image Aidan O'Neill)
Last year, they got funding from Dublin City Council to turn 260 tonnes a year, of manure generated from horses in the equine centre, into compost, which is then sold on.
"The equine centre used to have to pay to get rid of horse manure but is has been turned into a resource," said Garden manager Peadar Lynch, from the Ballyfermot-Chapelizod Partnership.
On Thursday they restart their weekly markets from 10am to 1pm, selling everything from tomatoes, cucumbers, salad, kale and new potatoes on a first come first served basis.
Ultimately, Lynch hopes to make the garden a self-sustaining venture.
"We want to be able to be sustainable and not have to rely on grants, if they keep coming great, but we don't always feel they will be there," he said.
Peadar Lynch (Image Aidan O'Neill)
"A huge part of this project is that it is a development project. All you need is ground, polytunnels, basically just stick seeds in the ground."
It sounds easier than it is in real life, but Lynch has overseen a majestic growth of new crops and activity from the community over the last 12 months.
Workers on a Tus programme with the Partnership, volunteers, and residents with allotments in the garden, have all helped to reinvigorate the land. They even sell salad to local businesses on a weekly basis.
Peadar Lynch (Image Aidan O'Neill)
"We are trying to get salad into supermarkets and hope to get into the Supervalu Food Academy."
On a recent visit by The Echo to the garden, Lynch and fellow garden members Loui Vangelder and Lar Westwood, were busy packing some 150 bags of freshly picked salad, set for delivery to SVP and a local café.
"A lot of salads are flown in from abroad, so there are other environment benefits and we have a huge advantage here. Pitching to shops is something we will be doing.
(Image Aidan O'Neill)
"We have year round salad, and hope to move 20 kilogrammes a week, about 200 bags."
Originally from Laois, Peadar developed his knowledge of horticulture from his parents Liam and Eileen Lynch.
"My father is a beekeeper but it was more my mother who would often say 'come here with me now' and get me to do little jobs in the garden.
(Image Aidan O'Neill)
"I thought it was slave labour but it got me outside working and interested, and after that I got a chance to teach organic horticulture."
Prior to being put in place last year by the Partnership to make the garden viable and sustainable, Peadar taught young lads in the area about organic horticulture, before the course was discontinued.
"A lot of guys on that course went on to Pearse College and one went to work for SAP. The formal education wasn't working for them but they thrived on community based education.
Peadar Lynch (Image Aidan O'Neill)
"A lot of them had no horticultural experience but they found it beneficial and it was good for personal development and work experience."
Current classes are running at the Partnership now on sustainable growing and advanced compost managing.
"The thing I've noticed with young people in Cherry Orchard courses, is it turns out that all their grandparents have experience growing vegetables.
(Image Aidan O'Neill)
"Maybe their parents grow veg aswell so it is not seen as cool, but after a while and a bit of maturity, they start to see the benefits."
The garden has expanded since last year and now has seven polytunnels, an increasing array of vegetables, and likely to see further benefits in the years ahead.
By subscribing to The Echo you are supporting your local newspaper Click Here: Echo Online.