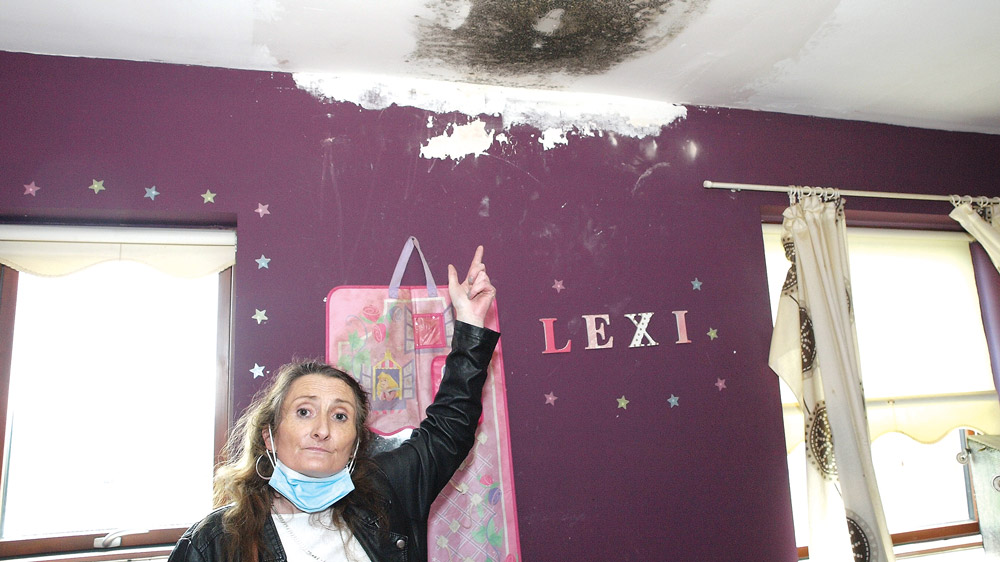 'My home is a mould-infested, musty shell' says single mother
"MY HOME has become a cold, mould-infested musty shell," claims a single mother, who is "begging for help" to be relocated from her social housing unit in Balgaddy.
Balgaddy has had storied issues with deprivation, with the 15-year-old estate boasting issues of a lack of amenity, poor-quality housing in breach of human rights, and anti-social issues.
One resident, who was one of the first in the estate, claims to be experiencing a litany of issues which has made her tenancy unviable due to the detrimental impact on her mental and physical health.
Louise Joyce is a resident in the housing estate, which has around 465 units, and has been seeking a transfer for the last four-years.
"Three months after I moved in, the roof fell in," the mother of two tells The Echo.
"Since then, my home has become a cold, mould-infested musty shell that is totally unlivable.
"The place is falling down around me, I'm trying to stay there but I just can't.
"If you were to put your hand against any wall in the entire apartment, when you took it away, your hand would be wet – that's how bad it is."
Balgaddy estate is one of 20 local authority estates in Ireland which took a complaint against the Irish State to the European Committee in Strasbourg – outlining sub-standard housing conditions.
Residents undertook an independent study of the Balgaddy development which found poor quality materials used in the buildings and the presence of dampness and mould.
Anti-social behaviour is rife in Balgaddy and in particular, open-air drug-dealing has become "rampant", according to Cllr Shane Moynihan.
Cllr Derren Ó Brádaigh previously told The Echo that "there is open drug-dealing" in Balgaddy while Cllr Moynihan described "click-and-collect" drug-dealing happening in pockets around the estate.
The property which Louise rents from South Dublin County Council is in one such location, with the 44-year-old being subjected to high levels of anti-social behaviour right on her doorstep.
One of the criteria for which transfer applications will be accepted is anti-social behaviour where a Garda Superintendent has stated that there is a risk to personal safety.
During her time living in Balgaddy, Louise is regularly a victim of intimidation, and The Echo understands that residents are reluctant to file official police reports for fear of reprisals.
Louise claims that her property was broken into a multitude of times in recent years, and that it is not fit for living in with her nine-year-old daughter.
"What is really hurting is the fact that I can't have my nine-year-old daughter live with me and expose her to this much mould," she says.
As part of her application to transfer to alternative accommodation to the council, Louise obtained medical confirmation that her living arrangement at Balgaddy was having a detrimental impact on her health.
Such is the volume of damp and mould, and nature of the development, the medical letter from a consultant endocrinologist states that her residency "affects her breathing" and that she "should be re-housed".
Louise claims that she has been struggling to obtain a place on the local authorities transfer list for the last four years and is pleading for somebody to help her relocate.
"I'm struggling to get on the transfer list with the council," Louise states.
"I'm begging for somebody to help me, for somebody to listen to what I have to say because it's causing my depression, I've just had it with it at this stage."
Louise is worried about what the future holds as her alternative accommodation, where she is splitting her time, will no longer be an option come November.
Despite claiming that the property is "unlivable", Louise continues to pay rent to the council with the hopes that she obtains a place on the transfer list and starts the process to be relocated.
The Echo contacted South Dublin County Council, asking what steps the local authority can take to resolve a situation such as this, but did not receive a comment.