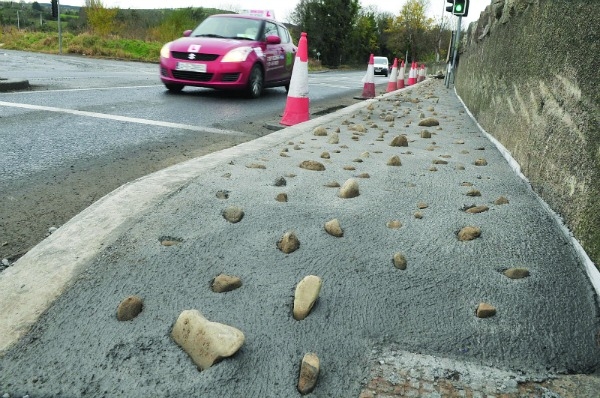 New feature on the Blessington Road has locals bemused
By Mary Dennehy
THE community has been left confused and a little bemused by this new feature on the Blessington Road, which has left many wondering, is the council stone-mad?
South Dublin County Council is undertaking upgrade works on the N81 and recently restored the historic wall that runs along this stretch of the N81, which lies between the Jobstown House and the entrance to DeSelby estate.
Over recent days, people have been taking to social media wondering what the council's plan is, and asking is the new feature a path or not?
When contacted by The Echo, a spokesperson for the council said: "The concrete crash barrier has now been removed [from this stretch of road] and a concrete strip placed between the road and carriageway.
"As it is not possible to provide a wide enough footpath between the wall and the road, pedestrians are advised to use the footpath provided in the greenspace behind the wall.
"The stones have been placed on the concrete strip to deter pedestrians from using it."
The council told The Echo that works are nearly complete, with stones around the utility chambers and the two end-points awaiting completion.
However, due to Operation Open City, which is taking place over the Christmas period, the council does not expect these works to be completed until 2017.
Tallaght South Labour Party councillor, and Jobstown native, Martina Genockey told The Echo: "I saw this new feature and thought it was a path.
"I assumed that the council was going to pour more cement over the stones and have them embedded in the path, but obviously not.
"People will walk on that regardless of the stones, it looks like a path even if it's not."
She added: "It's very unusual and I think local councillors should have been informed of it so that we could have spoken with residents and received some feedback on it.
"Councillors were aware that work was being done, but we weren't given the details of this new feature . . . and I'll bring it up with council management."