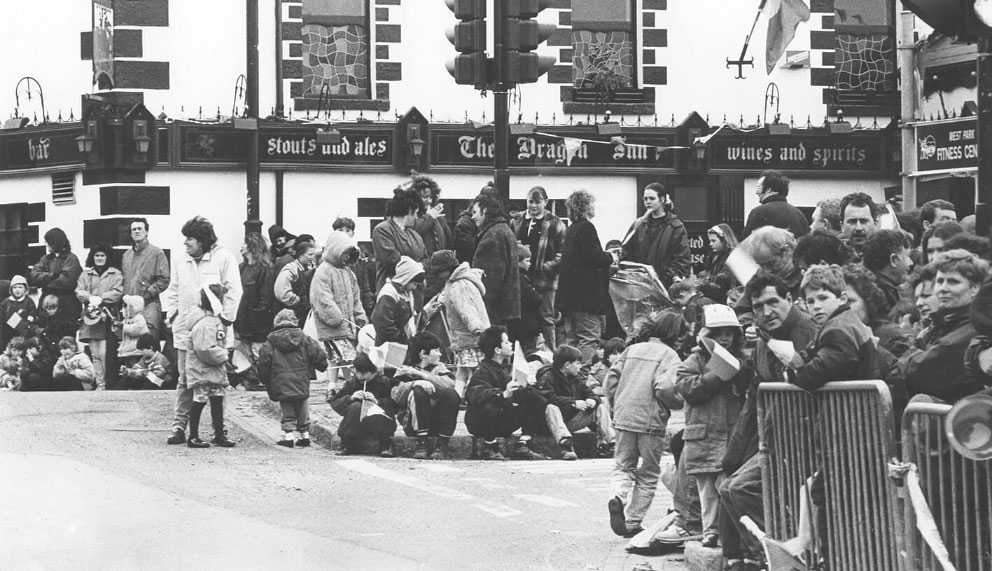 Parade to rekindle spirit and community camaraderie
By Mary Dennehy
THE countdown to the St Patrick's Day parade in Tallaght has started – with just days to go until more than 500 participants proudly march through the village.
Revived in 2018 after well over a decade-long break, the event hopes to rekindle the spirit and community comaraderie of past parades in Tallaght – which brought everyone together in celebration.
A past St Patick's Day parade in Tallaght
At 1.30pm on Sunday, March 17, the St Patrick Day Parade 2019 will leave the grounds of TU Dublin – Tallaght (IT Tallaght) and make its way onto Main Street.
Mobiloo Ireland will once again be at the Tallaght parade, making the inclusive event fully accessible.
Mobiloo, which is designed by people with disabilities for people with disabilities, contains a toilet with retractable grab rail, an electronic hoist, which allows access to all areas of the Mobiloo, and a full size adjustable height changing table.
While entries to the parade are still being finalised and being kept under wraps, more than 30 groups and acts are expected to take part – with early figures estimating over 500 participants.
Irish dancing schools, gymnasts, martial arts and sports clubs are among the local groups taking part.
It has been revealed that two pipe bands are signed up for the local parade – the Laurence O'Toole pipe band from Tallaght and the West Lothian Pipe Band from Scotland.
Tallaght Person of the Year Gar Tyrrell and Shauna Tighe, Young Carer of the Year, will also lead the parade through Tallaght Village.
Entries for parade participants has now closed however, there's still time for volunteers and businesses to come on board.
The parade route will be the same as last year, and will leave TU Dublin – Tallaght campus (IT Tallaght), travel down the Old Blessington Road, along Main Street and take a left onto the Greenhills Road before returning to the college campus.
For further details or to make contact with the parade committee, visit the St Patrick's Day Tallaght Parade 2019 Facebook page or email tallaghtparade.festival@gmail.com.