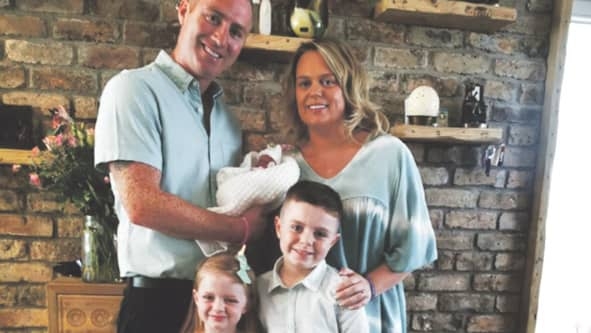 Remembering baby Grace by raising funds for Coombe
By Aideen O'Flaherty
A HUSBAND and wife team will be jogging and cycling 30kms from their home in Rathcoole to the Coombe and back to raise funds for the hospital later this month, in memory of their daughter Grace who was stillborn at 22 weeks in June.
Louise, originally from Kilnamanagh, and Gary Ryan, originally from Fettercairn, were excited to add to their family when they found out Louise was pregnant last February, while their children Josh (6) and Katie (4) couldn't wait to meet their new little brother or sister.
Gary and Louise Ryan with their children Katie, Grace and Josh
All seemed to be going well when Louise went for her 12-week scan in the Coombe, which she had to attend alone as a result of Covid restrictions, but there was no cause for concern at that time.
"There were no alarm bells ringing," added Gary. "It seemed like good news at a time when there was a lot of bad news."
The couple then excitedly counted down the days to the 20-week scan on June 4, not expecting anything to be amiss, but their baby was sadly diagnosed with a rare condition called triploidy – a chromosomal disorder which causes most affected infants to be miscarried or stillborn.
"I was on my own when I found out," said Louise. "But the staff in the Coombe were amazing.
"I had to go down to a fetal specialist to get my bloods done, and the staff went down with me, including my consultant, Professor O'Gorman, and a wonderful nurse called Felicity.
"You couldn't fault the staff, and after all, it wasn't their fault that Gary couldn't be in there with me."
This trust in the staff also helped Gary while he waited outside the hospital as his wife was getting tests.
He said: "They gave me assurances that Louise was being very well looked after, and that meant so much to me."
The Ryans then had to make a difficult decision about how to proceed with the pregnancy, and they decided to wait for a few weeks to see if Grace would get any bigger or stronger.
"Then on the Monday (June 15), Louise's water broke," remembered Gary. "We felt that that was a sign from Grace – she had made the decision for us."
Little Grace Esther Ryan was stillborn later that week, on June 20, and while Louise admitted to feeling frightened while giving birth, as she gave birth to her previous two children via cesarean section, she commended the staff for their help throughout.
"Even though Grace was stillborn, it wasn't all sad," said Gary. "We were still so happy when she was born – she was still our little girl.
"We're smiling in some of the photographs we have with her, because we were so happy, and so proud of her."
Grace was then brought to the family home in Rathcoole for two days for a wake, where her siblings and her extended family got to see her, before a small funeral was held for her and she was buried with her grandfather.
Reflecting on why they decided to fundraise for the Coombe and Féileacáin – the Stillbirth and Neonatal Death Association of Ireland, following the loss of Grace, Louise said: "The Coombe supplied the clothes for her because she was so small.
"Féileacáin gave us a coffin for Grace, which had her name and date and birth on it, a cooling matt, memory boxes, and bracelets."
According to the Ryans, this helped them as it reminded them that Grace was still being thought of by others, and they wanted to fundraise for a ventilator for the Coombe, and for Féileacáin to continue their services, in memory of their little girl.
The Ryans hope that the ventilator, which will be used to transport seriously ill babies from the delivery ward to the ICU, will go on to save "many, many lives" and will be a lasting legacy of their daughter.
At the time of going to print, the couple had raised over €14,000 on their Go Fund Me page at www.gofundme.com/f/run-for-grace.
They are hoping to have reached their €20,000 target by race day, Saturday, October 17, which will see Gary taking on the 30k distance to the Coombe and back by jogging, while Louise will be going the distance by bike, just two days before Grace's original due date – October 19.
By subscribing to The Echo you are supporting your local newspaper Click Here: Echo Online.