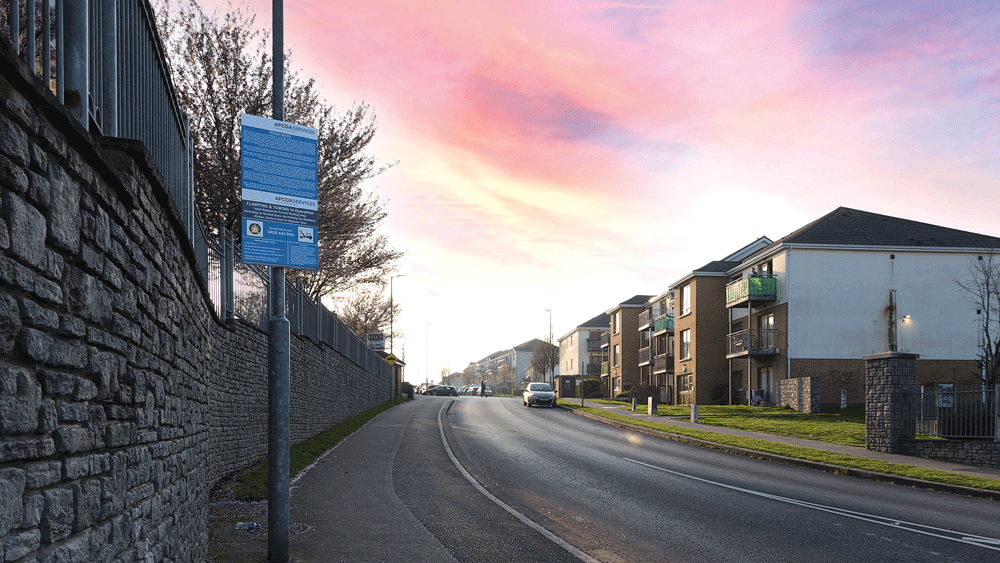 Residents up in arms over permit parking in estate
RESIDENTS of Deerpark Estate in Tallaght are up in arms as permit parking is set to be introduced by the estate's management company, Circle VHA, as a response to "challenges of collecting service charges and service charge arrears" from residents in the estate.
According to residents of the estate, they were informed on Friday, March 25, that permit parking would be implemented on Monday, April 4.
In a statement to The Echo, management company of Deerpark Estate, Circle Voluntary Housing Association, commented: "At the 2021 AGM, Kiltipper Park Management Company Ltd (KPMC) resolved to introduce a parking management scheme within the Deerpark estate.
"This consists of homeowners purchasing a limited number of parking permits per household at a cost of €10 + VAT per permit, per year, alongside the provision for visitors of residents to purchase visitor parking permits at a cost of €1 plus the cost of a standard rate text message."
The reasons outlined for the introduction of this parking management scheme according to Circle VHA is that it is a response to "a number of complaints" received by Circle VHA in respect to the allocated bays within the estate being used by third parties from outside of the estate for parking of commercial vehicles and ramblers accessing walking routes nearby. They said that it is also a response to the "continuing challenges of collecting service charges and service charge arrears".
Circle VHA also added that "Approximately 31% of all homeowners in the Deerpark Estate have some form of service charge arrears."
In a letter from residents obtained by The Echo, they have called the claims of service fee arrears "absolute nonsense", and said it is due to the management company's "inept slackness and not maintaining the estate as outlined in the original agreement".
"We were alerted on Friday that the Management Company, Circle, will be introducing Permit Parking and clamping to our estate and we as residents feel this is a disgrace," said the residents of Deerpark Estate.
"Both privately owned houses and apartments are expected to pay management fees and they have stated that they have no choice but to implement this due to lack of fees being paid to help with funding. When we purchased our homes, it was agreed that we would be allocated two spaces per house. One outside the home and the second would be in the "overflow" parking areas within the cul de sac.
"We have contacted South Dublin County Council and they informed us that this should not be implemented as the grounds where our cars are parked is public property.
"The parking areas are all public roads owned by the council – therefore they do not have the authority to introduce clamping on public roads that is not under their jurisdiction.
"We have contacted the management company with nobody receiving any response to date.
"There is also a bigger issue here as we also feel implementing this Permit Parking will discourage our family and friends from visiting us and even for a guest to stay the permit will state 'clamping and towing in operation, visitors must be registered- max stay of 2 periods of 24 hours in a week'. So, this is also policing us in how long our guests can stay in our homes."
Circle VHA added: "At all times, the intention to introduce the parking management scheme has been communicated to homeowners.
"It is regretful that a small number of homeowners are so vehemently opposed to the OMC taking this route, when the introduction of these measures, although it is acknowledged may cause some inconvenience to residents, ultimately will allow the OMC to provide the improvements so many residents want to see in the estate and indeed have complained aren't happening."
The management company also added that they are "aware of a small number of complaints" that have been raised to the managing agent since correspondence was sent to homeowners regarding the implementation of the parking management scheme.
"Circle Voluntary Housing Association has also witnessed both verbal abuse and threats of physical harm, including death threats, being made towards our staff and contractors in recent weeks. This type of abuse will not be condoned and has been reported to An Garda Síochána for further investigation."
The Echo contacted South Dublin County Council for a comment but it was not received in time for print.