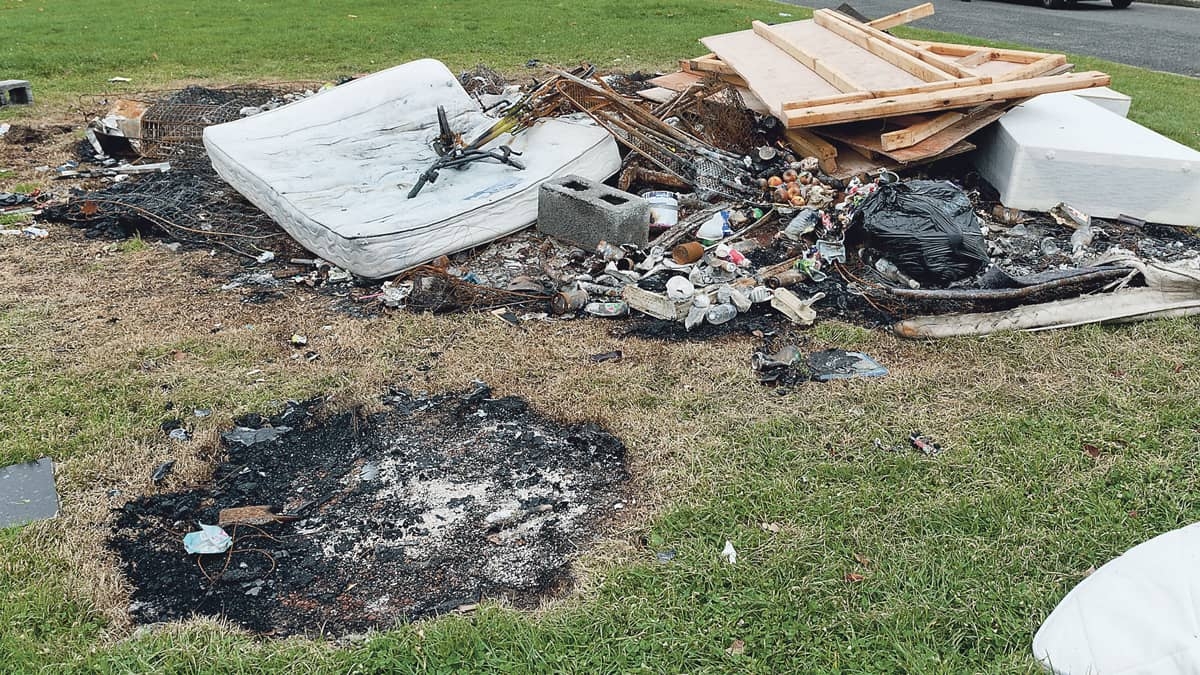 Restrictions to cause difficulties and challenges at Halloween
By Aideen O'Flaherty
TACKLING some of the challenges of Halloween, including damage to greenspaces and anti-social behaviour, will be increasingly difficult this year as a result of the pandemic.
Gardai will not be able to visit schools this Halloween to make children aware of the dangers of using fireworks and starting bonfires, while South Dublin County Council said their staff are also unable to visit schools this year to promote their 'Safe Halloween' campaign.
A green area damaged after a fire last year
"The situation regarding Covid 19 restrictions is expected to cause additional difficulties this year," stated a council spokesperson, "and there is much uncertainty around what is likely to transpire over the coming weeks and at Halloween itself. "
The local authority said they are going to instead rely on social media to spread awareness of their campaign, and they will be undertaking a number of measures to deal with the challenges of the Halloween season.
Crews from the Public Realm section have already commenced the removal of bonfire material stockpiles, and will continue to carry this out for the rest of the month.
Action will be taken by the council's Environmental Licensing and Enforcement Section to deal with commercial premises and their obligations to properly store their waste, and the council intends to run another 'mattress amnesty' scheme in advance of Halloween.
The 'Bulbs Not Bonfires' scheme, where residents who have prevented damage to their public open spaces during the Halloween season are rewarded with daffodil bulbs to be planted in the undamaged space, has returned this year.
The social credits scheme will once again facilitate groups, who are registered on the scheme, with the disposal of materials at the council's civic amenity site in Ballymount, as the council states this will help to reduce the amount of materials being handed over for bonfires.
In a statement at Monday's monthly council meeting, the local authority said: "The October bank holiday is on Monday, October 26, with Halloween on the following Saturday, October 31.
"It is expected that schools will be closed for the week in between these dates and council staff will be on high alert during this period.
"Council staff will be on duty over both weekends collecting and removing bonfire stockpiles that have been reported, with the assistance of the gardai where necessary.
"In 2019 a total of 585 tonnes of bonfire related waste was collected, with 237 tonnes of this collected before it reached a bonfire.
"The council hopes to maximise the quantity of material intercepted before it reaches a bonfire and this depends very much on the provision of information by local residents with regard to the location of material stockpiles.
"Such information can be submitted to the council by telephone on 01 414 9000 or by email at publicrealm@sdublincoco.ie."
By subscribing to The Echo you are supporting your local newspaper Click Here: Echo Online.