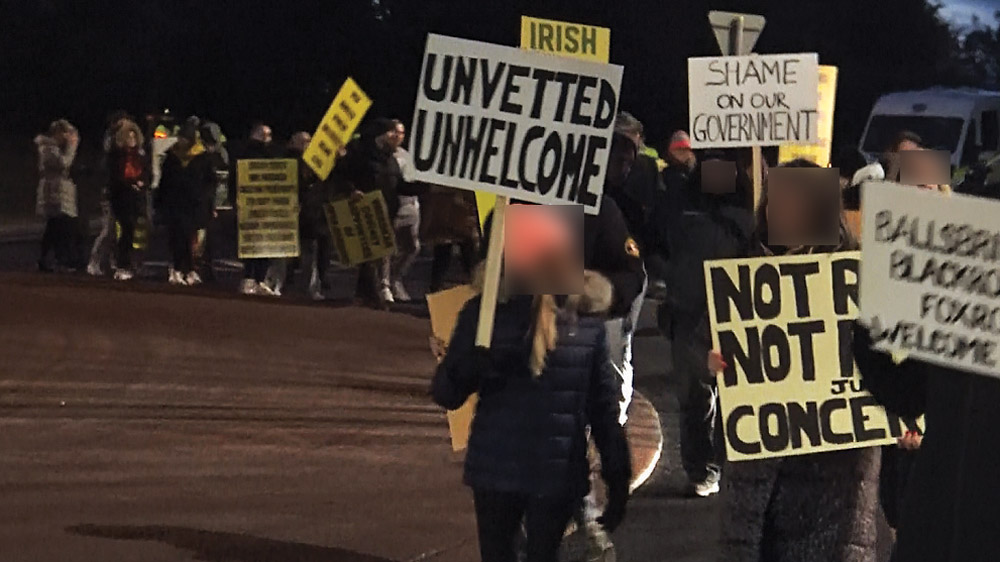 Rush hour traffic held up with immigration protests
PROTESTS took place this week in Clondalkin, Ballyfermot, and in Cookstown Tallaght last week, by residents opposed to the scale of immigration that is occurring.
Rush hour traffic was held up at Monastery Road on Monday evening, as residents protested about the lack of consultation between authorities and communities over the placement of hundreds of men into the area.
Refugees are being housed in the Maldron Hotel, Ibis Hotel, and the former SIAC building, on Monastery Road.
The protest took place near the former SIAC headquarters on Monastery Road, an office block which was refused planning permission for apartments last summer, but which is accommodating men classed as International Protection Accommodation System (IPAS).
Last October, the Dept of Children told The Echo there was 187 single males housed there.
The Dept said vetting is a matter for the Department of Justice "however migrants are not generally vetted, it is not possible for those fleeing war and persecution to be vetted in advance of arrival in Ireland".
According to an Irish Times article in October, almost 40 per cent of people seeking asylum in Ireland last year arrived through Dublin Airport without any travel documents.
People Before Profit TD Gino Kenny, who was at a counter protest welcoming refugees last Thursday in Clondalkin, posted a Tweet on Tuesday which said "members of the far right" have been "spreading lies about me and threatening to come to my home" and that he "will not be intimidated".
Senior gardai in Clondalkin told The Echo no incidents were reported to them arising from the protests, but that they have maintained a presence at protests in the area from the start, and said they are also liaising with centres housing refugees.
In terms of incidents at the Clondalkin centres, gardai say it is "very little, almost non-existent" but they will continue to monitor the situation.