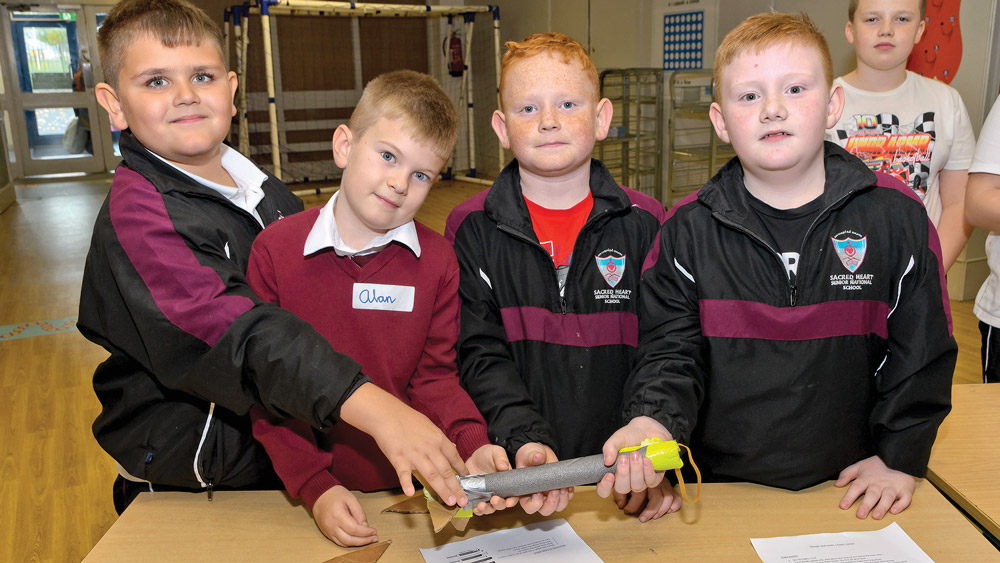 Sacred Heart pupils learn about the wonders of science
CHILDREN in Sacred Heart Senior National School in Killinarden were taught about the wonders of science during a recent visit to the school by engineer, scientist and performer Dr Niamh Shaw.
Dr Shaw, who is also a STEAM (Science, Technology, Engineering, Arts and Maths) specialist, visited the school on Monday, October 24.
She visited different year groups to teach them about science and the arts, and how she has woven both into her career, while also helping the children to construct and fly foam rocket ships.
Two pupils from Ms Jenkins' sixth class group, Abbie Deans and Tillie Wynne, wrote: "Niamh told us about rockets and how they work and showed us some pictures.
"After that we had lunch and when we were done with that, Niamh went to other classes and told them about rockets and space like she did us.
"Then we went down to the PE hall, and we constructed rocket ships. It was very exciting to do.
"When we finished, we all went outside to the yard, and we let the rockets fly. It was super cool, and we were all thrilled with the rockets and that Niamh Shaw came into our school.
"We took some pictures and videos, but by the time we had to go home we were all sad but still playing with our rockets, then we said goodbye to Niamh she done the same.
"She also said she had an amazing time and that she might come back to our school in January. Then we went home, and we told the people at home about our day and how amazing it was.
"Before we went home, we all gave a round of applause to Ms Jenkins for getting Niamh here just for us."
Ms Jenkins also praised Dr Shaw's visit, and how she detailed her career trajectory to the delight of the children.
"She discussed her path through life, becoming an engineer and scientist and how afterwards she moved into acting and writing," said Ms Jenkins.
"Niamh was always fascinated by space. She told the children of her journey to become a space communicator and working with NASA and the European Space Agency.
"The children were starstruck. Niamh helped the children design and construct a foam space rocket.
"Fourth class won the Space Rocket Race as their rocket travelled the furthest. Niamh hopes to visit our school again in November."