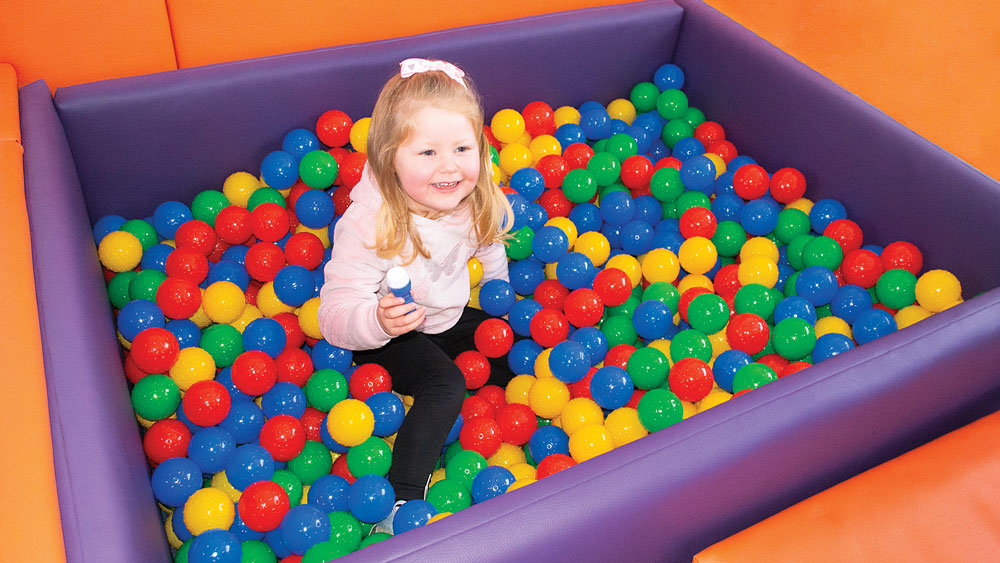 Sensory House strives to make sensory mainstream for all
WITH the motto 'Making sensory mainstream', Sensory House strives to make sensory rooms and products for those on the autism spectrum more accessible and affordable.
Sensory House, which was set up in late 2019 by Keith O'Grady, aims to create top quality and affordable sensory products and full multisensory rooms accessible to the masses.
Speaking about how the idea for Sensory House came about, owner O'Grady says that the idea stemmed from a realisation moment when he worked for a bean bag company.
"I was managing a company called BuddaBag.com, which do large, oversized memory foam beanbags," Keith explained.
"While I was involved in that, I realised that the bags were being bought by a lot of parents and teachers in schools and for libraries and colleges to provide a safe and calming space for children and adults on the autism spectrum to have a comfortable and secure place to sit, because when you sit into the bag it gives a weightless feeling.
"It was after selling a lot of those that I had the feeling that I should look into this whole sensory thing and see what it is all about.
"I started selling into Ireland's market leader in the sensory market and I was making products for them that helped kids with sensory issues for years."
When the owner of the company approached Keith and challenged him to make a sensory product for less money than she was quoted it was then that the penny dropped that there could be more to this than one product.
"I realised that I could make it and still make some profit and sell it to her for one third of what she was paying previously for it while making it in Ireland," Keith explained.
"That was the 'ah-ha!' moment – I thought, well if she is getting charged that much for that product and I can make it in Ireland then I should look into this.
"After speaking with her, she explained that a sensory room costs between €10-15k in Ireland to be installed and the government only give a grant of €7k, so a lot of schools and individuals end up topping it up with fundraisers or their own personal cash.
"She said that if I could do It for seven thousand that I would be completely disrupting the sensory market, and I love a challenge – I was told there is no way I could produce this in Ireland," said Keith.
After doing extensive market research, Keith realised that there was an opportunity to solve the problem that parents, and occupational therapists have faced for years in Ireland due to high costs of sensory rooms.
After six months of research and planning, Keith contacted the Local Enterprise Office seeking support and guidance for his business idea.
"Being an entrepreneur can be very lonely and at the start especially if you are always wondering if you are doing the right thing," he said.
"I just rang chancing my arm to see if there was any help I could get, and it was almost like a big open armed hug.
"They went through everything and assigned me a mentor and they gave me the confidence that I was on the right track, which was completely invaluable."
Now based in Fashion City in Ballymount Industrial Estate, Sensory House currently has four staff and is currently hiring for two more positions.
The company manufactures the products and sells them on site and the business has experienced massive interest from parents and schools.
Offering 70 different products for the full government grant amount, Sensory House has been focusing on getting sensory rooms into as many schools as possible.
"It has been revolutionary for the market.
"I am completely and utterly inundated with enquiries which is absolutely amazing, and it is such nice validation that my idea has legs and I am helping so many people with products that they absolutely need," said Keith.
"I have two uncles on the autism spectrum and they missed out on early intervention in their lives and it made it very known to me how critical early intervention is for people on the autism spectrum because they [my uncles] both live in sheltered accommodation and if they would have been born today I truly believe they would have lived a fairly normal life, so it is so important that we get sensory rooms into everywhere that needs them."
Speaking about the future of Sensory House, Keith says that the "possibilities are endless" within the sensory market.
"I have a ton of things in the pipeline.
"I am focusing on primary schools at the moment but there is a huge demand for sensory products for those with dementia and Alzheimer's for nursing homes.
"There is also very little products for teenagers and adults on the autism spectrum so these are the next avenues that I am going to explore."
For more information and to see the full range of products visit the Sensory House website HERE.