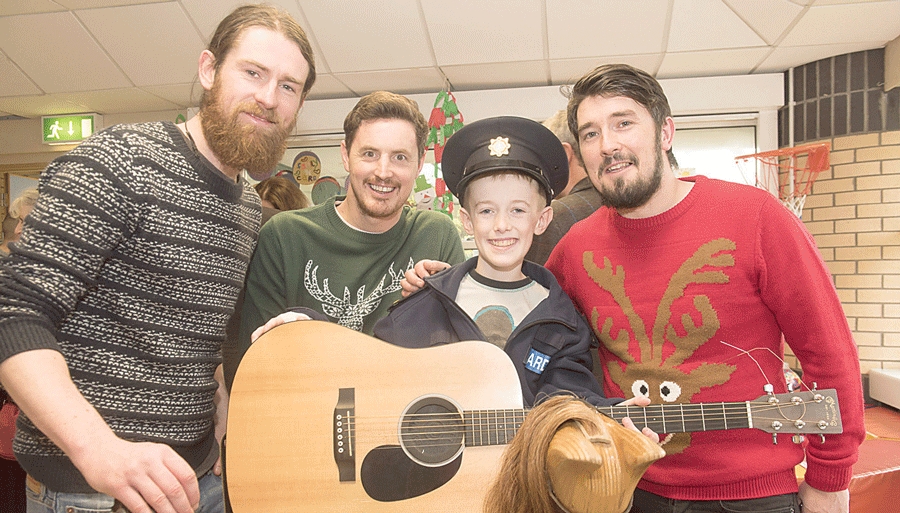 Special guests bring Christmas cheer to young patients and staff
By Mary Dennehy
PATIENTS and staff of the National Children's Hospital at Tallaght were visited by some very special guests on Wednesday – and treated to a special acoustic gig by top Irish band, the Riptide Movement.
For the past eight years, Lucan native and Tallaght garda Peter Egan has been organising an annual Christmas event at the local hospital – which in the past has seen well-known faces such as Jedward, Louis Walsh and Saoirse Ronan visit the young patients and staff at Tallaght.
This year, the Riptide Movement, stars from Fair City, actor Rory Cowan from Mrs Brown's Boys and the Olympia Panto, and magician Colm Dawson visited the hospital, and met with patients at their bedsides and in the playroom – where Lucan band the Riptide Movement staged a special concert.
Young patients also received a special Christmas stocking, gifts which are kindly donated each year by Caroline Downey of MCD.
Speaking with The Echo, Garda Peter Egan said: "The National Children's Hospital at Tallaght is a great place, but I noticed that it doesn't always get the big public events like Crumlin and Temple Street.
"I decided to organise a Christmas event and got a few people on board like Caroline Downey, and we've now had eight very successful years."
He added: "The visit makes a big difference to all of the kids and staff and gives them a lift at Christmas time.
"Tallaght is a massive hospital and it serves a huge population, and lots of local services link into it like the fire brigade service and local gardai.
"There's great staff there and it's nice to recognise them and the amazing work they do."
Garda Egan also thanked all of the celebrities who visited the hospital on Wednesday, December 20, and donated their time to its young patients and staff.