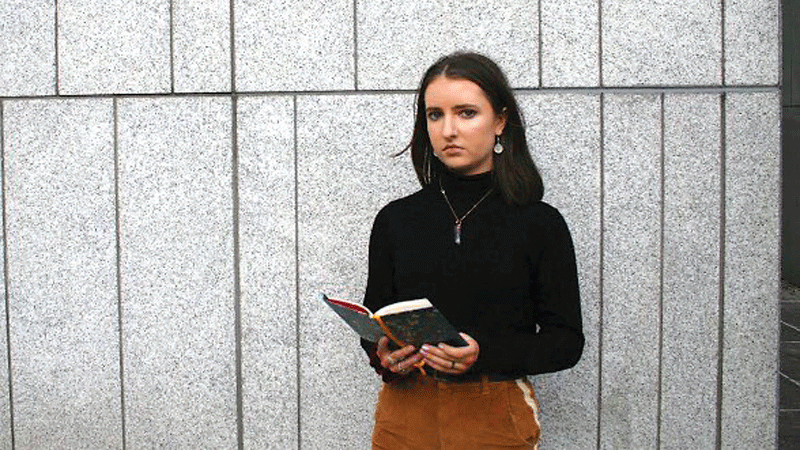 Spoken Word: Caoimhe explores her experiences through poetry
Poet and spoken word performer Caoimhe Weakliam recently performed her first spoken word gig, as a support act for Tallaght musician Luke Clerkin.
The gig was held in the Cobblestone pub in Smithfield last month, and it was the first time Caoimhe, who is from Templeogue, took to the stage to perform her poetry outside of open mic nights.
Caoimhe lists Tallaght poet Stephen James Smith as an influence, and she also takes inspiration from feminism and the changing face of Dublin.
She channels these inspirations into her arresting spoken word performances, and also her written prose which has been featured on The Outpost and EMPWR.
A past pupil of St MacDara's Community College, Caoimhe told The Echo about what prompted her to become a spoken word performer, what she enjoys most about it, and her plans to release new material in the near future.
Who is your favourite poet?
Honestly, that's a difficult question to answer. I love a lot of poets, both written and spoken, who all have beautifully quirky and unique styles.
I'm very fond of Dublin poet Stephen James Smith…if I had to pick a favourite, he's definitely up there.
His work has such a wonderful familiarity to it, as if the voice of Dublin itself was speaking through him. It's raw and steeped in the imagery of the rugged beauty of ordinary life.
He's one of a handful of Irish spoken word poets who I think are recreating what poetry can be – an experience to be felt and heard, rather than just the often-indecipherable metaphors on a page that we were fed in school.
Why did you decide to start doing performance poetry?
Deciding to take up performance poetry was a big act of defiance against my easily embarrassed and far from stage-confident self.
For years I'd scribbled poems in my bedroom and watched with admiration at other poets who brought their work to life on a stage, feeling like that aspect would always be out of my capability, despite wanting to do it so badly.
How did your first spoken word performance come about?
A few months ago, back in December, I signed up for an open mic night on a whim.
I'd been following Smithfield Creatives – a collective of artists that holds an open mic night once a week, on Instagram and forced myself to put my name down for their next night, thinking once I'd done so I'd simply have to face my fear.
I dragged my mates along so that if it went badly, we could all have a few pints and not mention it again. I don't think I'd eaten all day with the nerves, that sort of stuff doesn't come naturally to me. But I got up, and, behind my uneasiness, performed four poems.
I was shocked by how well received my performance was, and how I managed to keep myself together enough to do the poetry any justice.
But, once it came to giving voice to some of the pieces that I'd put so much heart into, it just flowed.
What do you enjoy most about being a spoken word performer?
Being able to express myself wholly. For me, poetry is the avenue through which I explore my own experiences and perspectives that I oftentimes don't know how to communicate in other ways.
Whether it's giving voice to the things I've been through personally, or being able to paint a picture of an issue that's affecting society, stepping onto a stage and letting my work flow allows the audience to connect to the words I've crafted.
This experience is quite special to me, as I've suffered with anxiety throughout my life and often retreated into a quiet and unspoken version of myself because of this.
During those times, I poured myself out onto pages. When I perform, the solitary origins of my art are brought to life by the act of sharing them.
Do you have any other performances planned or other new material in the pipeline at the moment?
While nothing is confirmed as of yet, I do have a couple of gigs planned with other artists for this year. I'm also working on a collaboration with another spoken word/rap artist that I'm very excited to share when the time comes.
At the moment, I'm in the final stretch of finishing my college degree, which has been a bit of a hindrance to dedicating time to my poetry.
I'm finding that difficult, as I have a constant desire to be creative paired with a responsibility to write my final year dissertation and focus on exams.
But, when I've finished college for good in a couple of months, nothing will stop me.
Where can readers go to find out more about your poetry?
Readers can find more about my poetry on Instagram @caoimheweakliam.
While I haven't been brilliant at sharing my work online so far, I have big plans to be more present on social media with my art. There's plenty to come.