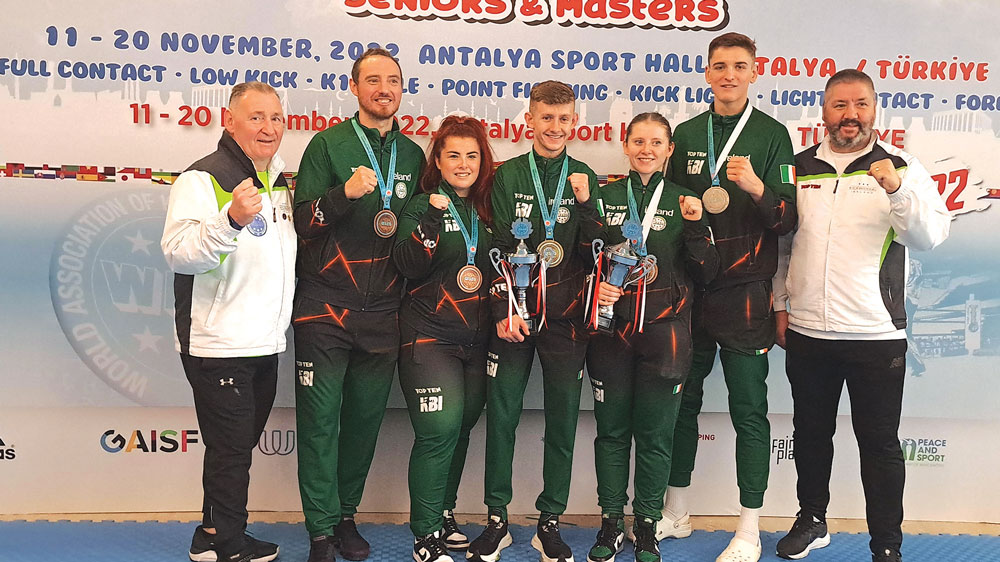 Success for Tallaght MA at WAKO European C'ships
TALLAGHT Martial Arts topped the podium twice at the WAKO European Championships in Antalya, Turkey.
This was a huge event in the history of kickboxing as it was not only the WAKO European Championships but also the qualification event for next summer's Olympic European Games, which kickboxing is now officially taking part in, "The Olympic rings, alongside our WAKO Logo, is a dream come true".
Tallaght Martial Arts had nine athletes qualify to represent Ireland at this event taking home two gold, one silver and six bronze – a massive haul for the club and a big part of the overall Irish team's success, Ireland taking home four gold, three silver and nine bronze.
TMA's medal haul started with Adam Condon after three hard fought fights meeting Bulgaria in the final, this was a tough battle.
However, Adams speed, movement and accuracy saw Adam Condon take home a European Full Contact Gold.
The next finalist for TMA was Conor McGlinchey, working hard to get to the final after three days of fighting.
Conor was up against Germany in the final, things did not go Conor's way in this final eventually losing out to the very talented German.
The next final was a highly anticipated event Tallaght's Jodie Browne, the present World Champion against Ana Kondar previously 10-time World Champion who moved down weight to try qualify for the coveted Olympic European games.
After three exciting rounds of a tough, tactical battle Jodie came out on top winning by a single point.
Other fantastic performances were given by Keri Browne (Bronze), Stephen Jones (Bronze), Nicole Bannon and two newcomers to the WAKO Senior Championships Naoise Colvin and Luke Daly gave fantastic performances for their debuts in what is a high-level event.
Tallaght represented Ireland strongly on the Irish teams at the Team Event with the Women's team made up of the four TMA Girls Naoise, Nicole, Keri and Jodie successfully brining home another bronze medal.
The men's team had two TMA members Conor and Stephen also achieving Bronze for Ireland.
Special mention to Fergus Daly who showed true Sportsmanship and Martial spirit, when his competitor did not show up the officials wanted to disqualify the Azeberjanian opponent guaranteeing Fergus a medal.
However, Fergus offered to wait and fight his opponent.
This was an absolute battle with both fighters showing great skills and determination. Fergus lost in sudden death to his opponent but earned the admiration and respect of the whole martial arts community.