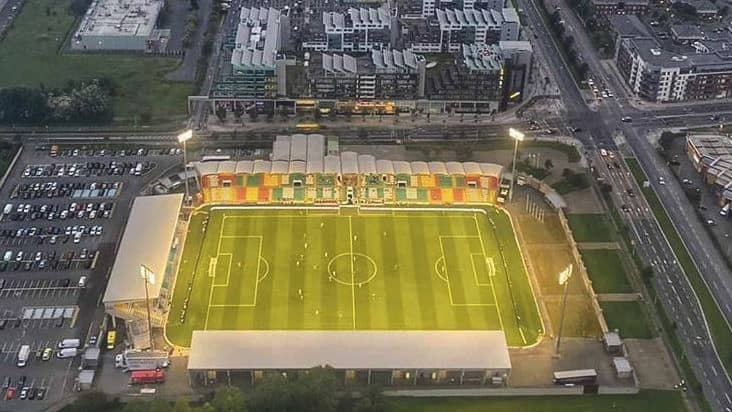 Tallaght scoop Rising Star enterprise award
By Mary Dennehy
TALLAGHT's community partnership and 'can-do' attitude to challenges faced has been recognised in an all-island enterprising awards programme.
On Tuesday morning, Tallaght was named the winner of the Rising Star category in the Bank of Ireland, Begin Together Awards 2020 – landing a trophy and cash prize of €20,000.
Tallaght Stadium during the Shamrock Rovers v AC Milan match Photo courtesy of An Garda Siochana
The Tallaght bid was a collaboration between Partas, South Dublin County Council, LEO South Dublin, the South Dublin Chamber and Tallaght Community Council (TCC) – and highlighted the work of groups right across Tallaght and their response to Covid-19.
The work of nearly 80 community-based organisations was highlighted in this year's bid, with Tallaght's case presented to judges in early September.
The presentation team comprised of Mayor of South Dublin, Cllr Ed O'Brien, Partas CEO John Kearns, LEO CEO Tom Rooney and Tallaght Community Council's voluntary PRO, Tara De Buitlear.
In a comment to The Echo after Tallaght's win, Partas CEO John Kearns said: "This year the competition focused on how Tallaght has been responding to the Covid-19 crisis and the award is recognition of the effort of the many volunteers, community groups, organisations and agencies that have been working together in such an outstanding way."
WATCH:
According to Mr Kearns, the "amazing work" of 78 groups and organisations was identified during the awards' bid.
"It was actually edifying to see how great Tallaght was when times got tough and people needed to pull together, how Tallaght was really able to do it", Mr Kearns said in a short video produced on Tallaght's win.
Mr Kearns also confirmed to The Echo that the €20,000 prize fund will be used for the completion of the new enterprise incubation hub being developed in Bolbrook, called The Edge.
The Bank of Ireland Begin Together Awards, previously known as the National Enterprise Town Awards, bring 'business and community groups together to support local recovery and rebuilding'.
The initiave was fast-tracked this year to provide funding to winning towns in early October, to assist their Covid-19 recovery.
According to Joanne Hosey, Bank of Ireland Provincial Director for Dublin: "The enterprising spirit and 'can-do' attitude of our communities has always been strong but this is no ordinary year.
"Covid-19 poses a huge challenge to our physical, mental and financial wellbeing.
"Communities across the island of Ireland have impressed us with their sense of partnership, passion and ambition.
"The Bank of Ireland Begin Together Awards are positive proof that communities and businesses can and will overcome this challenge and I'm proud that we at Bank of Ireland can support them."
Tara De Buitlear, voluntary PRO of TCC, said the award-win for Tallaght recognises at a national level, what happens daily on the ground in local communities.
"Winning the Rising Star category is a national title and gives Tallaght the recognition for what we already know to be true on the ground here in Tallaght on a daily basis", Ms De Buitlear told The Echo.
"Tallaght is all about people, community and self-motivation.
"We have countless community stars, individuals and groups who make us shine.
"They have been pushing us along a path of progress to becoming a successful city whilst never losing our heart of a village."
What the judges said:
Tallaght delivered a very inspirational presentation from a team which represented all sectors in the community. They were very much aware of where they started from and the struggles that the town has faced to get this far on its journey.
They were also very clear on the work that remains to be done to bring the town to the next level. The judges were left with the impression that they had engaged with a very supportive and determined team which had high levels of mutual respect and a clear understanding of the role that each played in their common endeavours.
The judges were impressed by a town which has been on an upward trajectory for a considerable period and for which the Covid-19 crisis has demanded a detour rather than a change of direction.
By subscribing to The Echo you are supporting your local newspaper Click Here: Echo Online.