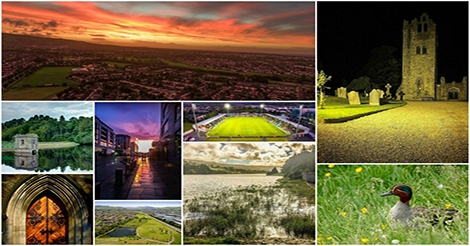 36 pictures that show Tallaght is a beautiful place to live
Over the past six weeks we at Echo.ie have been asking you to send us your favourite pictures of Tallaght and the surrounding areas.
From sunrises to sunsets and from parks to the village, we have collected what we believe are some of the most beautiful pictures of Tallaght.
We've also included some of the more quirky photos we were sent, including one which features a well-known lover of the drive-thru McDonalds on the Belgard Road, and another that captures the (lengthy) construction of the new cycle path through the village.
Parks featured heavily in the submissions we received too, and between Tymon, Sean Walsh and Dodder Valley Park, we really are lucky to live in Tallaght.
We often forget how Tallaght is the gateway to the Dublin mountains, and with so much beauty, where else would you want to live.
Audrey Keith: Dodder Valley Park
Tara de Buitlear: Overlooking Tallaght from Bohernabreena
Dermot Halligan: Bohernabreena Reservoir
Dermot Halligan: Steam rising during road works in Tallaght village
Felix@klause210 (Insta): Sunrise over Tallaght Stadium
John Murphy: Glenasmole Reservoir
Shane Walsh: The infamous McDonald's Heron
John Dennan: A Hoverfly in Tymon Park
Jennifer Fayne: St Maelruain's
John Dennan: A Heron skimming water in Tymon Park
Karen Cosgrove: Dusk sky over Tallaght Stadium
Michael Fayne: Glenasmol Reservoir
John Dennan: Mallard Duck in Tymon Park
Michael Fayne: Belgard Square
Michael Fayne: The Dodder Weir
Paal Janson: Bohrenabreena from the sky
Jennifer Fayne: Priory door
Richard Patchell: Kiltipper Road Park
Eileen Charters: Tymon Park Fairy Garden
Michael Fayne: Tymon Park on an Autumn Day
Nicola O'Reilly Dodder Valley
Rebekah Abraham: Tallaght before dusk
Michael Fayne: Sean Walsh Park on a snowy morning
Tanya Fitzpatrick: Old Court Road
Michael Fayne: St Maelruain's
Richard Patchell: Tallaght sumer evening sky
Jennifer Fayne: Tallaght Village Main Road
Richard Patchell: Sean Walsh Park
John Dennan: Tymon Park
Richard Patchell: Tallaght Stadium – Night Final
Richard Patchell: St Maelruain's
Sinead Duffy: Tymon Park Fairy Trail
John Dennan: Wild Flowers in Tymon Park
Jennifer Fayne: St Maelruain's
Jennifer Fayne: The Priory
Sharon Flanagan: Tallaght Sunset
A massive thank you to everyone who took the time to send in their pictures, and please, if you have a picture of Tallaght you love then send it our way.