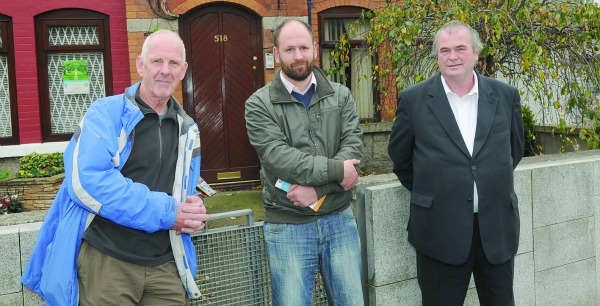 €50,000 grant for Irish language and cultural centre in village
By Mary Dennehy
AN IRISH language and cultural centre is expected to open its doors in Tallaght this spring, after a €50,000 council grant facilitated the progression of the project.
As reported in The Echo earlier this year, the recently revived Gaelphobal Thamhlachta purchased a building in Tallaght village, with support from Glor na nGael, and plans are in place to develop the centre as an Ionad Gaeilge and Culturtha [an Irish language and cultural centre].
A major step forward in promoting and establishing Irish as an integral part of daily life in the area, the centre will also house a public Caifé Gaelach to the front of the building, which will be staffed by Irish-speaking members of the Tallaght community – all of whom will be offered employment.
The Caifé will be open to the public alongside an Irish language and culture book shop or siopa leabhar, which is being planned for the second floor of the building.
The space in the middle of the building will be transformed into a multi-use hall for various groups to use.
Pól Ó Meadhra, a member of Gaelphobal Thamlachta and a teacher at Scoil Santain, said: "This is really exciting news for the community, and, alongside promoting the Irish language, the centre will help revitalise Tallaght Village and also generate local employment. We bought the building last year but had nothing left to refurbish it.
"However, South Dublin County Council provided us with a grant of €50,000 through the Community Development Fund, which will help us refurbish the building and hopefully get the café up and running before Seachtain na Gaeilge next March."
He added: "There is a huge appetite and demand for Irish in Tallaght, and I've met lots of people who are strong Irish speakers, but don't get the opportunity to speak it regularly.
"We hope that the centre will help to build connections for Irish speakers and normalise the language in the area.
"We also want to grow the Gaelphobal Thamhlachta movement and will be opening our doors to everyone in the community, even those with a cúpla or no focail – this centre is for everyone."
Gaelphobal Thamlachta hopes to revive Cumann Gaelach Thamhlachta, which was very strong in Tallaght during the seventies and eighties – and will also link in with the well-established Áras Chronáin cultural centre in Clondalkin and other Tallaght-based and neighbouring groups and organisations.
Pól said: "It's a great achievement for Tallaght to get its own Ionad Gaeilge and Culturtha, there's only something like eight of these centres nationwide, so it's a very positive step for Tallaght and for the Irish language."
For further information on Gaelphobal Thamlachta, which runs a conversation circle every Thursday at 8pm in Molloys and an Irish youth club called Feachtas Thamhlachta, visit the Gaelphobal Thamhlachta Facebook page or www.gaelphobalthamhlachta.com
READ MORE: Tallaght man sets up
fake
profile
to have sex with girl (15)
READ MORE:
Spanish healthcare firm
opens €100 m Grange Castle facility –
READ MORE:
Father fights for disabled
son's safety after 16 months in emergency
READ MORE: Top chefs attend IT
Tallaght
launch of pioneering Masters – Click HERE
READ MORE:
Prison for father of
two who punched 72-year-old after