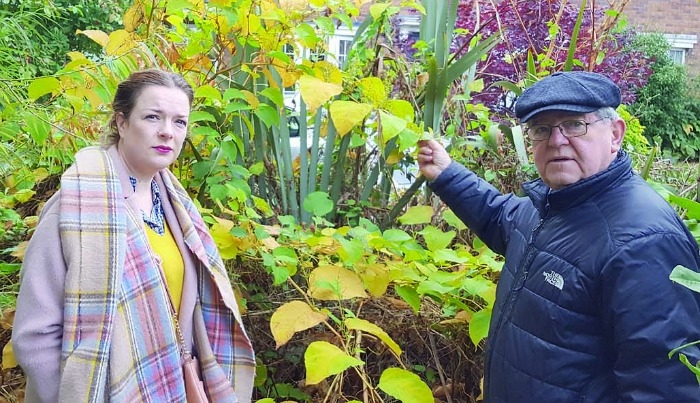 Calls to eradicate invasive Japanese knotweed species
By Mary Dennehy
URGENT calls have been made for South Dublin County Council to eradicate the growth of Japanese Knotweed, an invasive species that is taking root in Rathfarnham – and has been known to lift paths and damage foundations.
Growing near waterways, Japanese Knotweed is creeping into a number of estates in Rathfarnham, with residents concerned over the extensive damage the weed can cause to drains, paths, garden walls, and even foundations, if not controlled properly.
It was first introduced in the 19th century as an ornamental plant from Japan and has since, spread across the UK and Ireland, particularly along watercourses, transport routes and infested waste areas, according to Invasive Species Ireland.
Last year, The Examiner featured a report on a West Cork town under siege from the non-native, invasive weed – with calls made for Government action due to the damage caused by knotweed and its presence in estates devaluing homes.
Rathfarnham Sinn Féin councillor, Sarah Holland this week told The Echo: "I raised the issue of knotweed in Rathfarnham back in 2014, and I don't believe it was dealt with satisfactorily [by South Dublin County Council].
"Some spraying was done in the vicinity of Whitechurch stream, but spraying knotweed is futile.
"It needs to be dug out, surrounded by a trench and then sprayed consistently during the off-season.
"The weed spreads rapidly and has an extensive and insidious root system . . . and the last thing this council needs is a bill for underpinning someone's home."
Cllr Holland said that residents of Willbrook and its surrounding areas have reported the weed which, on the top 100 list of the world's most invasive species, is approaching their properties.
It has also been spotted on the Tuning Fork site.
"One of the conditions attached to the development of the Tuning Fork site was control of invasive species, so I will be calling on the developer and council to liaise and make sure this knotweed is eradicated," Cllr Holland said.
At the Rathfarnham Area Committee meeting this week, Cllr Holland had an emergency motion passed which asked the council to come up with an "urgent plan of action" in relation to Japanese Knotweed.
When contacted by The Echo, a spokeswoman for the council said that a programme to map the occurrence of non-native invasive plant species commenced in 2016, with an Invasive Species Management Team also established – and this has begun to map and identify locations for inclusion in the general maintenance schedule for 2017.
The spokeswoman said: "The programme will also include an annual period of targeted spraying, cutting or removal, whichever technique is the most appropriate for different invasive species, during the correct season for these species, as resources allow, e.g. September for Japanese Knotweed.
"This species, in particular, is resource intensive and requires a systematic treatment programme to be implemented over a period of between three and five years if eradication is to be achieved."
If anybody comes across Japanese Knotweed, which is very expensive to properly remove, they are advised not to touch or cut the plant, as it only spreads the weed further, and to contact South Dublin County Council or a local councillor.