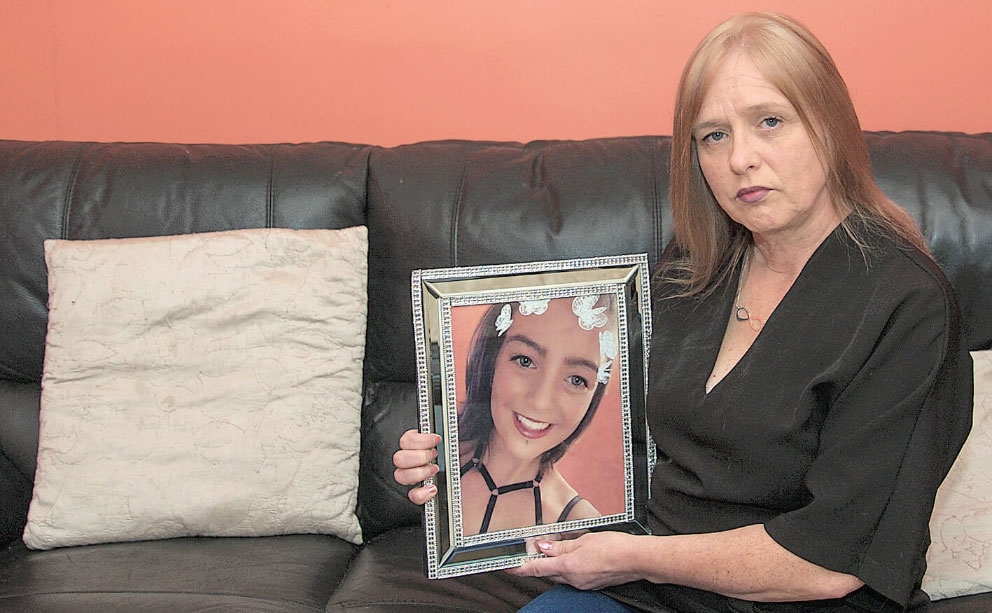 'Coco's Law' aims to make online cyber bullying a crime
By Maurice Garvey
THE mother of a young girl who was bullied to suicide, has started a campaign to make online bullying a crime after being told that no one will be held accountable for her daughters death.
Jackie Fox (48), from Clondalkin, is trying to come to terms with the loss of her only daughter Nicole 'Coco' Fox Fenlon (21), who passed away in January, after suffering three relentless years of bullying at the hands of a group of girls.
Jackie Fox holding a picture of her daughter Nicole
Nobody is likely to be charged, as no law is in place to protect people from cyber bullying, whilst Nicole was too afraid to report physical abuse directly to gardai.
Jackie has now started a campaign to bring in 'Coco's Law', to make online bullying a crime in an effort to protect other vulnerable people.
She plans to protest outside the Dáil on April 24, and is appealing for support from members of the public to join the campaign.
"I know it will be an uphill struggle, and it is too late for Nicole, but hopefully people will support this to highlight the issue and help others," said Jackie.
"No action is to be taken over Nicole. Gardai told me there will be no prosecutions."
Originally from Tallaght and separated from her partner, Jackie said she would move back to the area "in the blink of an eye" if she could.
No remorse
"I see these people all the time (who started the bullying campaign against Nicole). There is no remorse. What is even more horrific, in 2016, after Nicole tried to commit suicide, they threatened to beat her up and put her on life-support.
"The health services failed her in 2016, telling her she had no mental health issues after her suicide attempt. Nicole went to bed crying every night. Before going out, she used to start throwing up and get cramps. She told me she 'wasn't going to let them get the better of me', but they did."
The online abuse started when Nicole turned 18, and included lies spread about her sexual activity.
Nicole also suffered intimidation when she was out at nightclubs, allegedly girls burning her with cigarettes, knocking over her drinks, and on occasion physically assaulting her and dragging her by the hair across the dancefloor.
On January 20, Jackie and her son Lee (14) returned home, to find Nicole hanging in the hallway.
"Lee had to cut her down. He keeps asking me when will the pain go away. It has affected him and Dean (19), We are a close family, we cry all the time and will never forget.
"I am doing this, because bullies always target a next person."
Nicole's family are holding a benefit night for Coco on May 26, at 8pm, in the Dublin Postal Sports and Social Club, on Kiltipper Road. For more information on the benefit night and Coco's Law, visit www.gofundme.com/vpwgx5-a-night-for-coco.