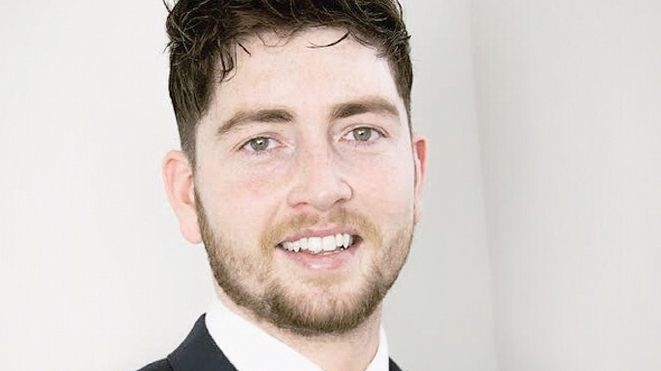 Company warns it may fold if it can't enter agreement
By Maurice Garvey
TERENURE entrepreneur Gareth Sheridan, the founder of Nutriband, has warned investors the business might fold if it cannot obtain financing or enter a joint venture agreement.
In it's annual report, the med tech firm said development efforts have been put on hold, while its financial position and effects of Covid-19 have seen its contract business scaled back.
Gareth Sheridan
Former presidential candidate Sean Gallagher was appointed to the board as president of the company in 2018.
Mr Sheridan, the firm's CEO and past pupil at Terenure College, invented the Nutriband patch while studying for a management degree at the Dublin Institute of Technology.
Patches developed by the company are focused on nutritional products, cosmetic products, and therapeutic transdermal patches.
They cover a wide range of areas including, energy, weight management, vitamins, anti-wrinkle, insect repellant, sleep and detox.
It's annual report said: "Because of our financial position, we have put our development efforts with respect to these products on hold, and our only business is the performance of contract services for a small number of customers.
"Because of both our financial position and the effects of the Covid-19 pandemic, our contract service business has also been scaled back.
"Subsequent to January 31, 2020, because of the lack of available cash and the decline in business resulting in part from the effects of the Covid-19 pandemic, we temporarily closed our operations, and do not expect that we will be able to commence operations relating to the development of our transdermal pharmaceutical products until we receive substantial funding."
In its financial year to the end of last January, Nutriband generated revenue of €340,630 and a €164,000 loss.
Its total net loss for the year was just under €2.5m when stock-based compensation and other costs were included.
By subscribing to The Echo you are supporting your local newspaper Click Here: Echo Online.