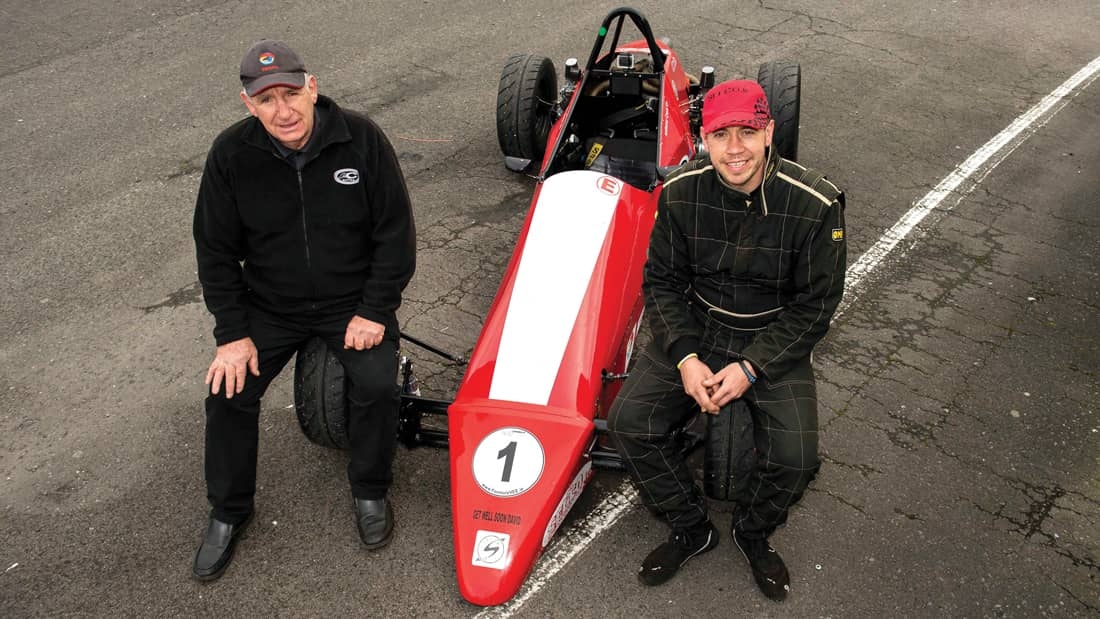 Cross avoids risks to win third straight Formula Vee crown
TALLAGHT man Anthony Cross played it safe to secure his third straight Selco.ie Formula Vee Championship title in Mondello Park last weekend.
The reigning champion headed into the final round of the series with a narrow two point advantage over closest rival Gavin Buckley, but with one dropped round to consider, he only had to finish in seventh place if Buckley won.
Tallaght man Anthony Cross with his father Fred after he captured his third Formula Vee Championship title in successon at this season's final round at Mondello Photos by Barry Cregg
The county Kildare circuit staged the season opener back in July and thanks to the hard work of the Mondello Park staff and race officials, racing managed to go ahead this year amidst the COVID crises albeit without spectators.
With two successive titles under his belt, Cross had the experience behind him to remain calm when the situation called for it while Buckley was in uncharted waters.
Then, also into the mix, were the young guns of Jack Byrne, Jordan Kelly and Philip Sheane who all drove well at the previous meeting in Mondello.
Byrne maintained the impressive form he has shown over the last three race meetings, taking pole position by 0.145 seconds ahead of Buckley in second while Cross was in third.
Anthony Cross on his way to another title last weekend
Indeed it proved a hugely competitive qualifying session with the top six covered by just 0.6 seconds.
It was Buckley who got the jump on Byrne and took the lead going into Turn One although he subsequently found himself under serious pressure as Byrne sought to retake the lead, which he managed to do by the end of the lap with Jordan Kelly following him.
Cross, however, did not make a great start and found himself battling with Sheane and then Mark Reade before the safety car had to be deployed to retrieve the stricken car of Tim Murray who got stuck in the gravel after spinning at the final corner.
Byrne made the best of the restart and defended by taking the usual inside lines and Kelly just could not get through, the Wicklow man making it two wins in a row to finish the season very strongly.
Yet Cross did what he had to do and stayed out of trouble to claim yet another Formula Vee crown.
While he did not have it all his own way and did not win every race, he was on the podium gaining valuable points whenever he did not enjoy victory.
What's more, his car preparation was second to none throughout the year as he never suffered any mechanical failures or problems.
Looking back on the race that clinched title Number Three, Cross said "That was the longest 15 minutes of my life.
"I knew what I had to do before I went out and knew I only had to finish seventh if Gavin won, so I had to just keep him in sight.
"Then the lights went green so I said I'd go for it, but then it got fairly fraught up front and I had Philip Sheane hassling me from behind.
"So I decided I didn't need to be involved in this. I had a moment to think and let them off and keep out of trouble.
"It started to rain also which played on my mind, but it probably wasn't as bad as I thought and made me just play it safe and bring it home to the flag.
"I have to thank my dad Fred who is the reason the car runs so well and never gives us problems" he added.
By subscribing to The Echo you are supporting your local newspaper Click Here: Echo Online.