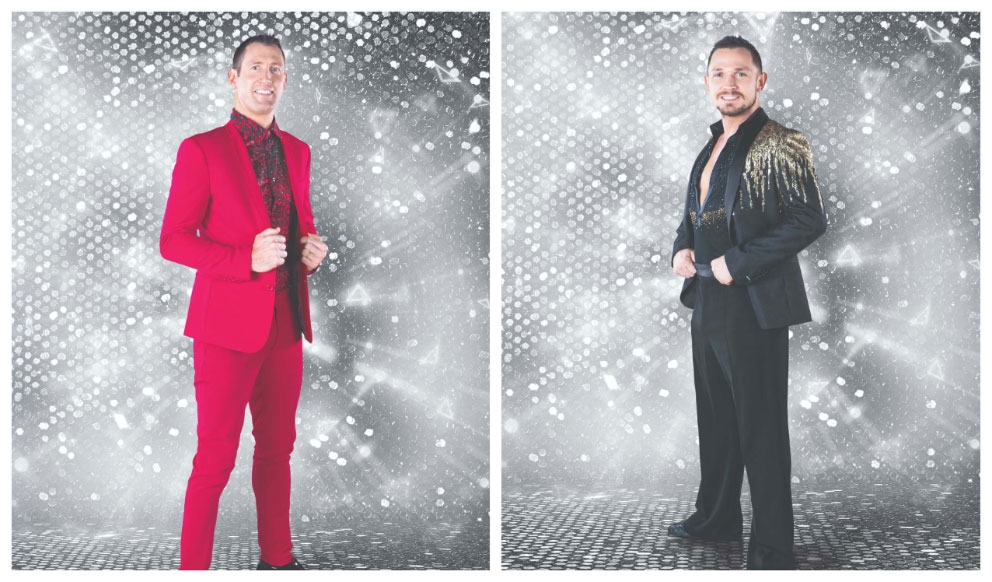 Dub player steps up for Dancing with the Stars
By Aideen O'Flaherty
TWO local lads will be donning their dancing shoes and sequins when they take to the Dancing with the Stars Ireland stage next month, with hopes of winning the coveted glitterball trophy.
The hit RTÉ show will broadcast the first episode of the show's third series next month, which will see a host of stars battle it out on the dancefloor in order to be crowned the winner.
Former Dubs star Dennis Bastick from Glenview and Johnny Ward (right) from Greenhills
Greenhills man Johnny Ward (31), whose acting credits include 'Love/Hate', 'Fair City' and 'Copper Face Jacks: The Musical', is looking forward to tackling a new challenge as he tries to put his best foot forward in the popular dancing competition.
Retired Dublin GAA star Denis Bastick (37), from Glenview in Tallaght, will also be put through his paces on the show.
Speaking to The Echo, Johnny Ward said that he had long been interested in participating in the show, but wasn't able to in the past because it conflicted with his busy acting schedule.
"I heard back in October that they'd accepted me onto the show," he explained. "I was over the moon."
Johnny has already started training for the show, and is in the process of perfecting his jive dance moves for the first show.
"It's so tough, and the live aspect of it is very daunting – there's no escape [if anything goes wrong]," he said.
Taking on the show's dancing challenges is an unusual turn for the actor, who wasn't always a fan of throwing shapes.
"I did dancing as a kid, and I hated it," said Johnny. "I loved doing drama, and with singing it depended on the song, but I really didn't enjoy dancing."
Luckily, Johnny has since found dancing to be less of a struggle, and thinks that playing roles such as gangsters and kidnappers have been much more taxing on him than competing in Dancing with the Stars will be.
"It will be an absolute doddle – this will be an absolute breeze compared to my last two weeks in Fair City [playing kidnapper Ciaran Holloway].
"People don't expect you to be 100 per cent perfect when you're on Dancing with the Stars.
"I'm just going to take it day-by-day, I think if you think too much about it then it'll work against you."
You can watch Johnny and Denis, and nine other hopefuls, take centre stage when RTÉ's Dancing with the Stars Ireland returns to RTÉ One on January 6.