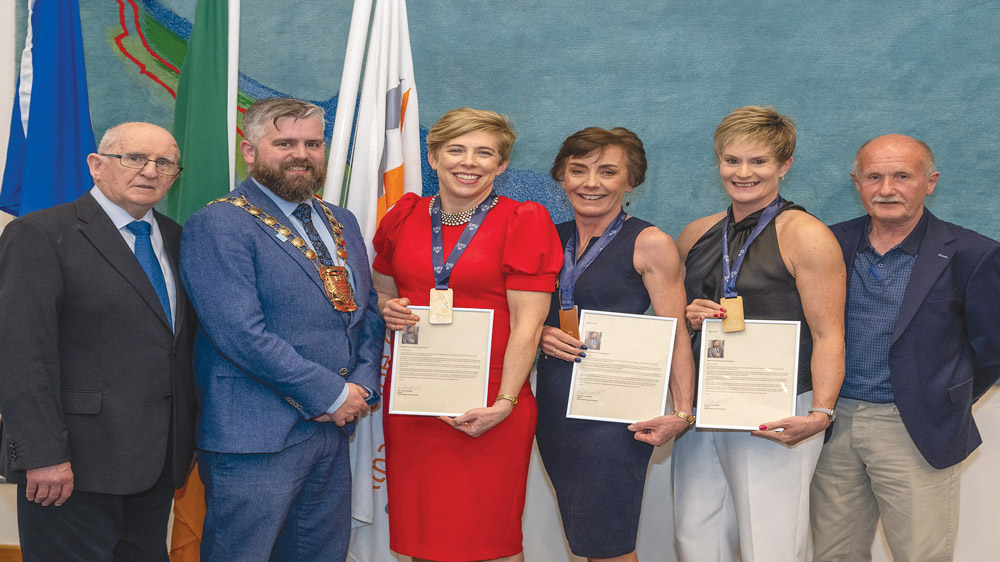 Fantastic achievement of athletes at European C'ships
The fantastic achievements of Carol Kearney, Annette Durkan and Leanne Wellings at the European Masters Indoor Championships in the Portuguese city of Braga for the Lucan Harriers were recognised by Mayor Peter Kavanagh in County Hall.
The women brought home gold medals in the Women's over 50 200m relay and set a number of national records in their respective events including 200m and 100m relay, 400m outdoor and indoor events.
The athletes were joined by family and friends at the celebration.
The Mayor Councillor Peter Kavangh opened the event with words of congratulations and admiration followed by PJ Hyland, Chairman of the Lucan Harriers and their coach Gerry Martin who both congratulated the athletes and encouraged everyone, of all abilities, to get involved in the club.
The Mayor said,  "I'd like to congratulate Carol, Annette and Leanne on their amazing achievements in the European Masters indoor championships, Sport is an essential part of life and has a positive effect on our mental and physical wellbeing, it teaches us teamwork and connects us to our communities. The Lucan Harriers are indeed very fortunate to have such dedicated and talented athletes who will be an inspiration to new athletes of all ages."