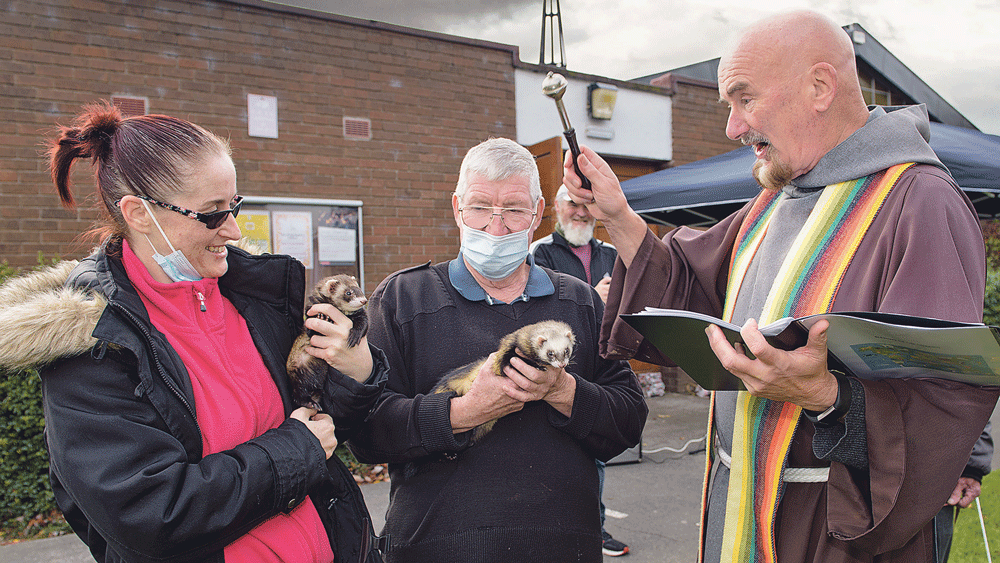 Fr Hughes 'gets a buzz out of' blessing the pets ceremony
OVER a dozen pets received blessings in the car park at St Mark's Church in Springfield, Tallaght, on Saturday afternoon.
A total of 17 pets were blessed on the day, including 14 dogs, a cat, a budgie and two ferrets, by Fr Martin Hughes, who is the chaplain for St Mark's Community School.
Fr Hughes told The Echo: "I love doing the blessing of the pets, I get a buzz out of it. I blessed all of the pets by name, and I said a blessing for all of their owners too.
"I think the owners brought their pets for a blessing because the animals are a very important part of their lives, especially with Covid over the past year."
Blessing pets has a particular resonance for Fr Hughes as he is a Franciscan priest, and St Francis of Assisi is the patron saint of ecology and of animals.
"If you have a pet it connects you, in a lot of ways, to all of creation," said Fr Hughes. "And people truly love their pets.
"When I blessed them, I asked God to look after them for the year ahead."
The blessing of the pets was held as part of the Vine Group's annual Euchariston Harvest Festival, which ran across three days last weekend and was focused on celebrating the community. Other events that were held as part of the festival included a concert in the church, an international food fair in the scouts' den, and a closing ceremony Mass on Sunday afternoon.
The annual Blessing of Pets will take place at St Martin De Porres church in Aylesbury on Sunday, November 7 at 11am.
The event, which will see pets blessed and gently sprinkled with holy water, is in celebration of the Feast Day of St Martin.
The parish team at St Martin's has invited everyone to attend the service for pets in the church's courtyard.