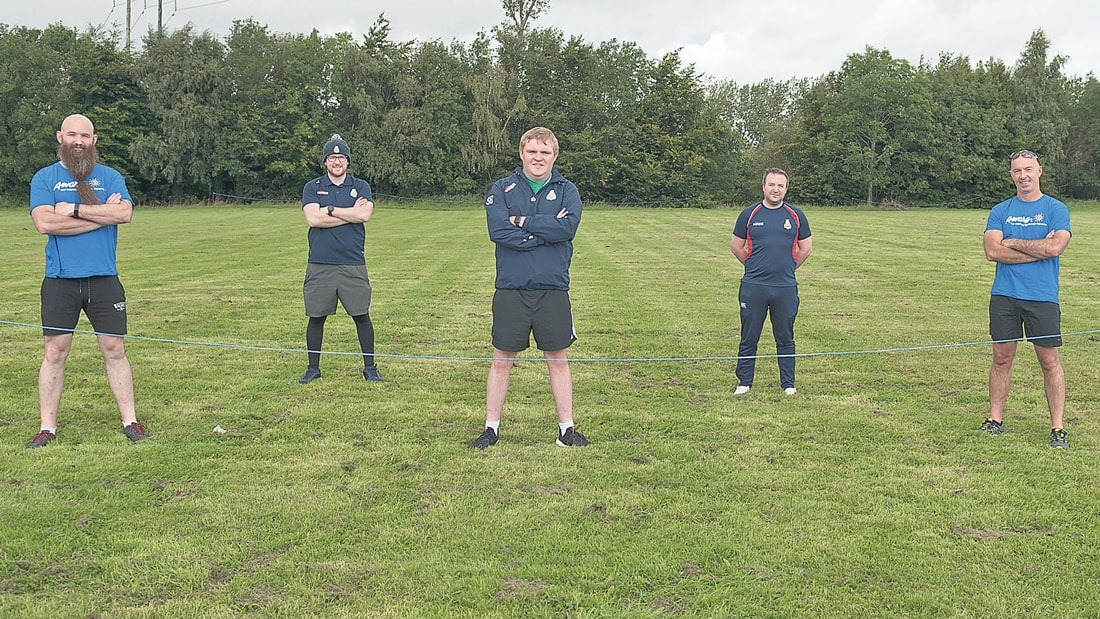 Going the distance – Tallaght RFC raises over €15,500 for Aware
By Aideen O'Flaherty
OVER 40 people took part in a 24-hour running challenge at Tallaght Rugby Football Club's home ground in Firhouse over the weekend, where they covered a distance of 310km and raised over €15,500 for mental health charity Aware.
The running challenge was originally meant to start at Thomond Park in Limerick, with the runners covering between five and ten kilometres each over the course of 24 hours, until they reached Firhouse.
Padraig, David, Brian, Simon and Luke
However, as some of the counties the runners would have had to go through were in lockdown, the decision was made to hold the event in its entirety in Firhouse instead, while club members in Co Kildare, which is currently in lockdown, took part remotely.
Luke Tyrrell, chairman of Tallaght RFC, told The Echo: "It was disappointing that we had to change it, because it was the guts of two years of planning.
"But we changed it for the health and safety of the members of the club and the public, and considering we would've had to go through counties that are in lockdown, we thought it would've been disrespectful to run through them."
While looking at alternative ways to go ahead with the event, Luke said that himself and the other club members agreed that cancelling it "was not an option", as people had been training for it, and they didn't want to postpone it as rugby season will begin again shortly.
Simon and Brian bumping elbows
Not to be deterred, the club came to the decision to hold the event at their pitch in Firhouse and it was a roaring success.
"Because we were contained within our pitch," added Luke, "there was a lot of camaraderie amongst everyone, we were all having a joke and a laugh.
"It was all very positive, and even during the night morale was extremely high, and a lot of people stayed on to give support."
Lisa and Tony at the fundraiser in Tallaght Rugby Club
While those who took part had an enjoyable experience, the challenge also raised a significant sum of money for Aware, as the club far exceeded their initial fundraising target of €10,000. Donations are still being accepted online at give.everydayhero.com/ie/t2t.
"The whole idea was to raise money for Aware," explained Luke. "Like many others, their services are under a lot of pressure due to Covid.
"It's timely, for all of those people who may be suffering with mental health issues during the pandemic."
Plans for holding the event again next year are already in the early stages and, pandemic depending, the club hopes to go the distance from Thomond to Tallaght in 2021, like they originally planned.
For details on Aware visit the charity's website HERE or call the helpine on 1800 80 48 48 (Monday to Sunday, 10am to 10pm).
By subscribing to The Echo you are supporting your local newspaper Click Here: Echo Online.